By John Curtin Home Inspector
Content approved and Protected
There is nothing comparable to the peace and serenity that can be found at sunrise when walking inches from the ocean on the beaches of Jupiter. With large-scale and residential construction limited along the coastline Jupiter has preserved miles of pristine beach offering a myriad of aquatic amenities not found anywhere else in the Treasure and Gulf Coasts. Jupiter and its neighboring community's beaches extend approximately 10 miles from south of the Juno Beach Pier to north of the Jupiter Beach Jetty. Enjoy your exploration and adventure.
Juno's Beaches Solitude
At the far end of Juno's landmark Pelican Lake is a non-descript walkway with a 12" by 9" sign which reads "Juno Beach Access JB-1". For those looking for solitude this is their grail. Although parking is limited, if you journey down the 300' access path you will find yourself on a beach which only locals know of. Head south and along your 1.5-mile journey you will pass the unpopulated stretch of Seminole Golf Course and the beach front homes of Lost Tree before you reach the secluded northern ends of the pristine beaches and dunes of Macarthur State Park.
The Juno Pier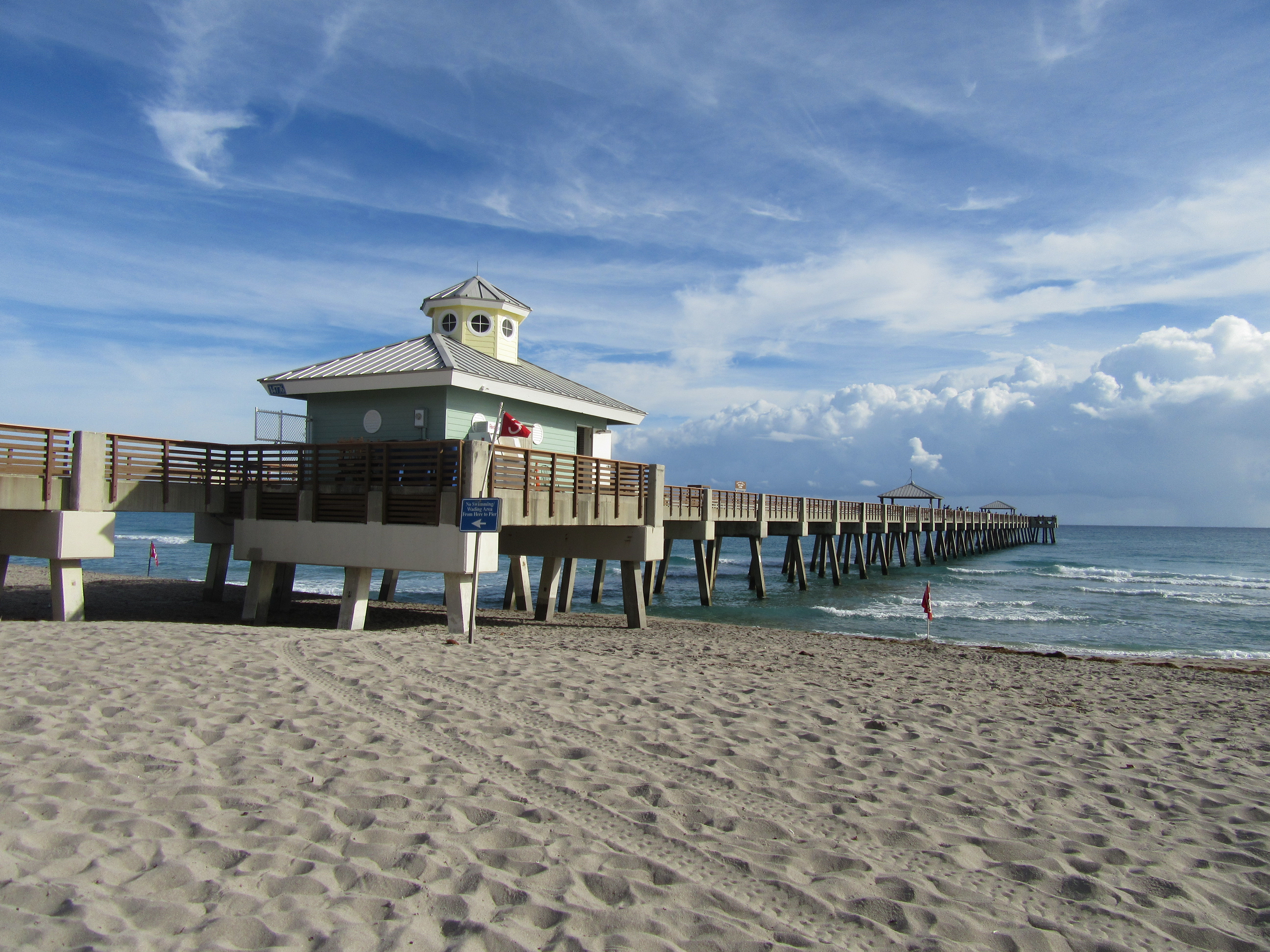 In 1946 Bessemer Properties, Inc., bought a tract of land adjoining Seminole Golf Course and platted it as a subdivision in 1948. Bessemer dredged a pond now known as Pelican Lake and built a 500-foot fishing pier. The pond, ocean pier and subdivision improvements opened the Town for planned development. The pier was one of the few privately-owned ones in the state. In 1977, the Sheltzes learned it was for sale. The original facility along with a small 2 story apartment offered bait, tackle, food, bathroom facilities and admission to the pier. When remodeled the facility, they added a patio and bar for outside dining and live bait wells. They also re-decked and reinforced the pier.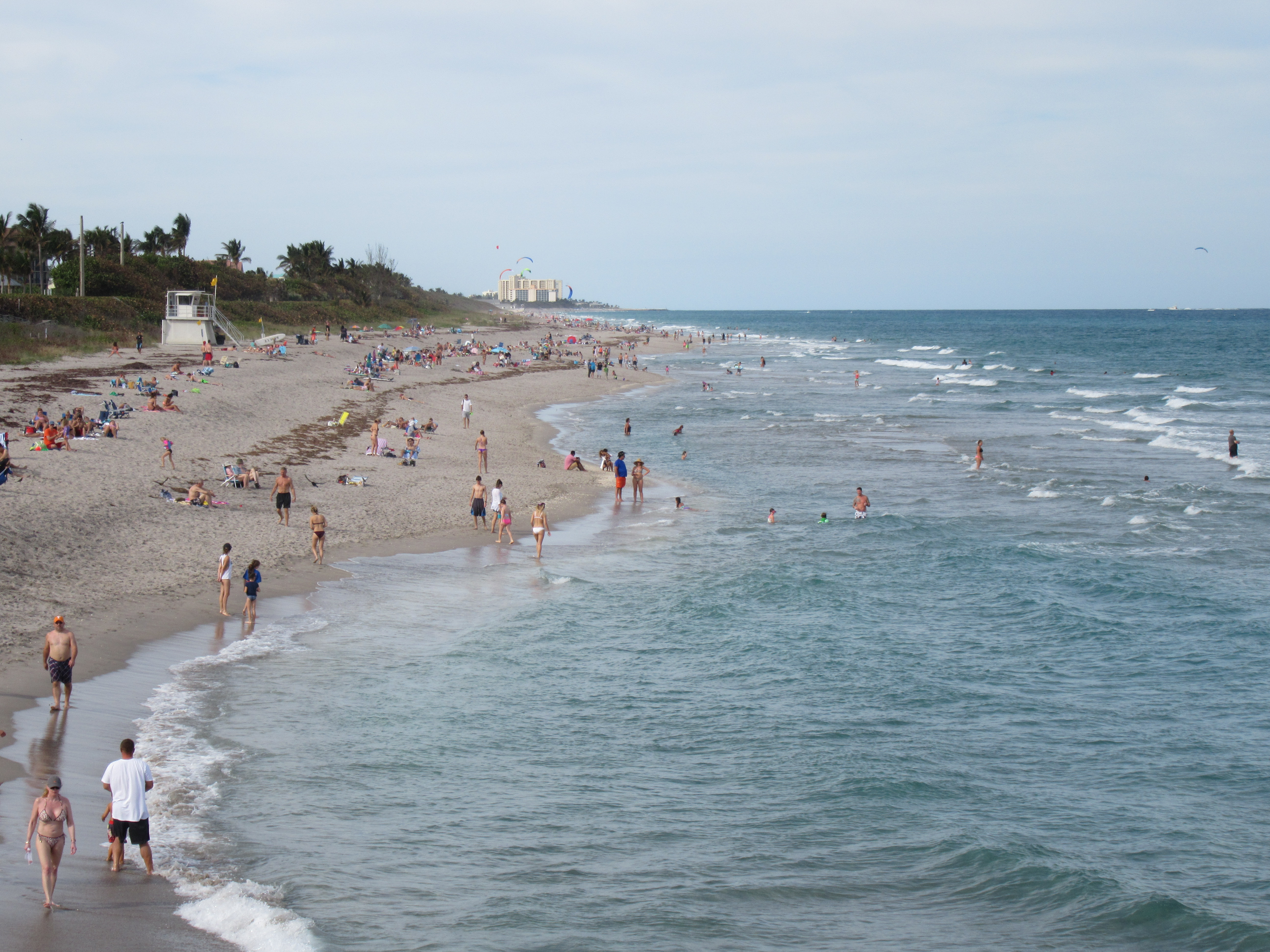 Although a well-known and wonderful stop for fisherman and tourists the pier did not generate much of a profit. In 1984 Town officials determined the pier was too decomposed to repair and although the Sheltzes challenged the death sentence in November a Thanksgiving storm sent 20-foot waves crashing into the pier. Concerned that the pier proposed a hazard the Town dismantle the rest and burned down the administration building in January 1986.
Spearheaded by local tackle shop owner John Lott a new $2.5 million, 990-foot, T-shaped pier opened in January 1999. In 2012 the Pier got a face lift with new railings and decking. Most of the deck panels are designed to "Blow Out" during severe hurricanes which will prevent serious damage to the piers super structure. Since April 1, 2014 The Pier has been managed and operated by the Loggerhead Marine Life Center for the County. The Pier is open from about sunrise to sunset between March and November, and around the clock the rest of the year. Admission: $1 to $3. For more information call the Juno Beach Fishing Pier: (561) 855-6185 or go to https://www.marinelife.org/conservation/pier/
Ocean Cay Park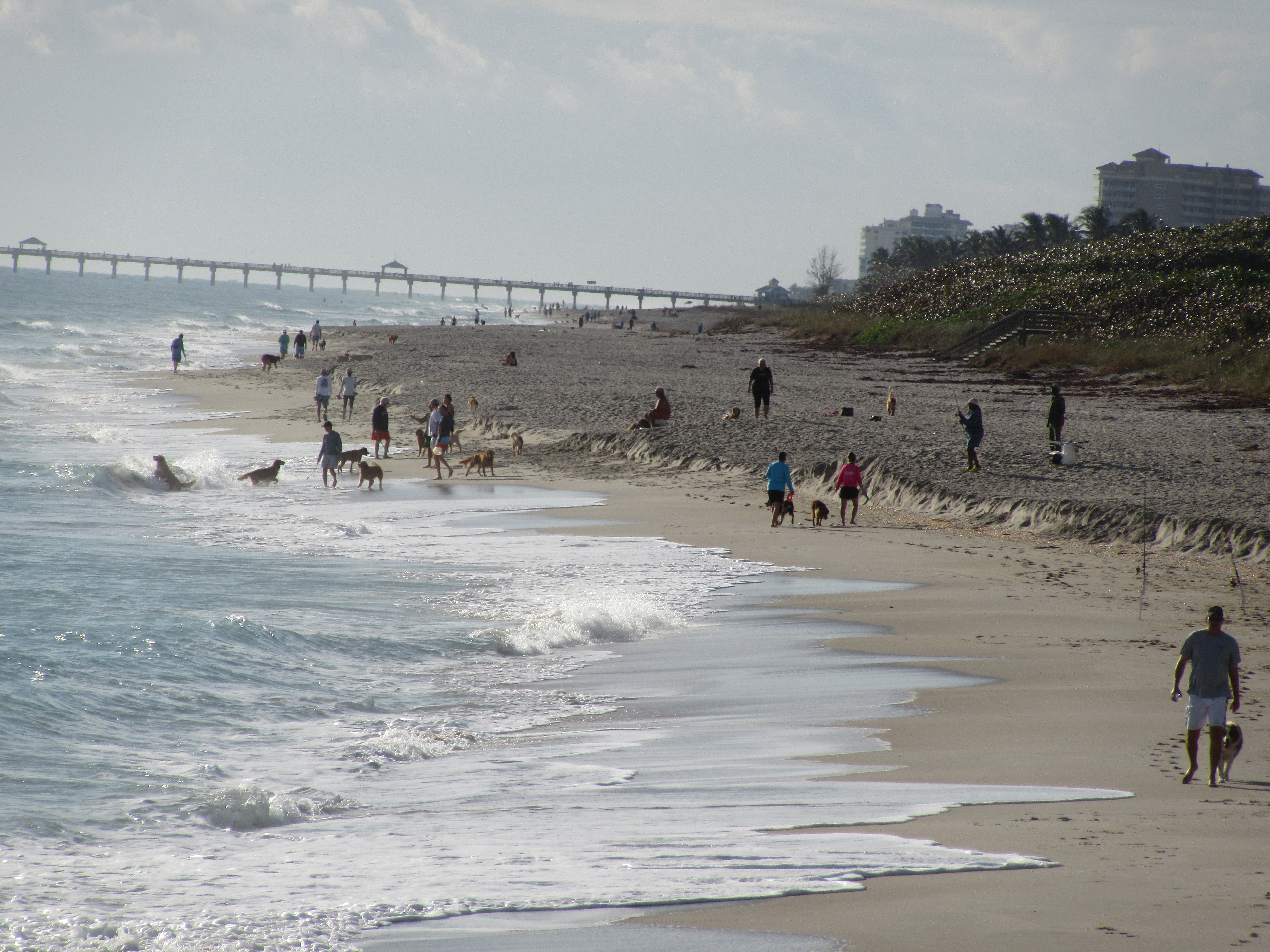 Just north of the Juno Pier is Ocean Cay Park. Situated across US A1A, Ocean Boulevard, Ocean Cay Park offers ample parking, picnic pavilions and a children's playground which make this parks amenities an anchor attraction of the area. One of the stand out attractions for the park is their numerous beach volley ball courts which attract weekend warrior and tournaments alike.
Dog Beach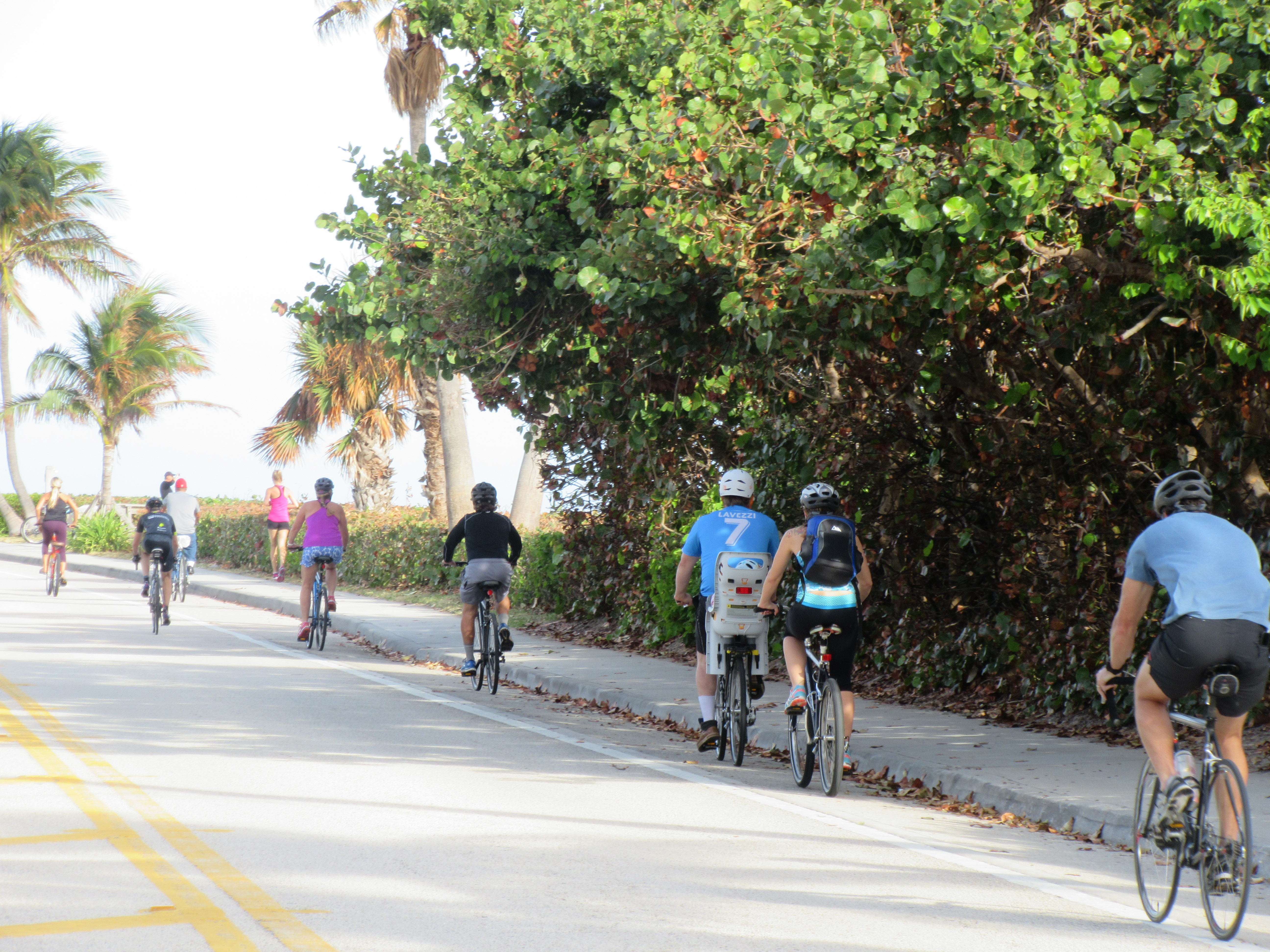 One of the most popular beaches is the portion stretching from Ocean Cay Park to the boundary of Carlin Park and is commonly known as "Dog Beach". Amenities for humans and canines are immediately visible to anyone who parks between those areas. Friendly furry friends are allowed the run of the place as long as everyone is polite and does their part in keeping the beach clean. In a testament to how well-loved the Dog Beach is many of the boardwalk entries have been marked as memorials to some of Jupiter's beloved pets. It is one of the most scrupulously maintained areas of beachfront in town. Plastic bags and plentiful trash cans offer a place to "doo" business and dedicated volunteers are seen most weekend mornings patrolling the beach for all sorts of flotsam and jetsam making it on of the cleanest beaches you will find anyware.
Walk, Jog, Bike, Skate, Kiteboard and Park for Free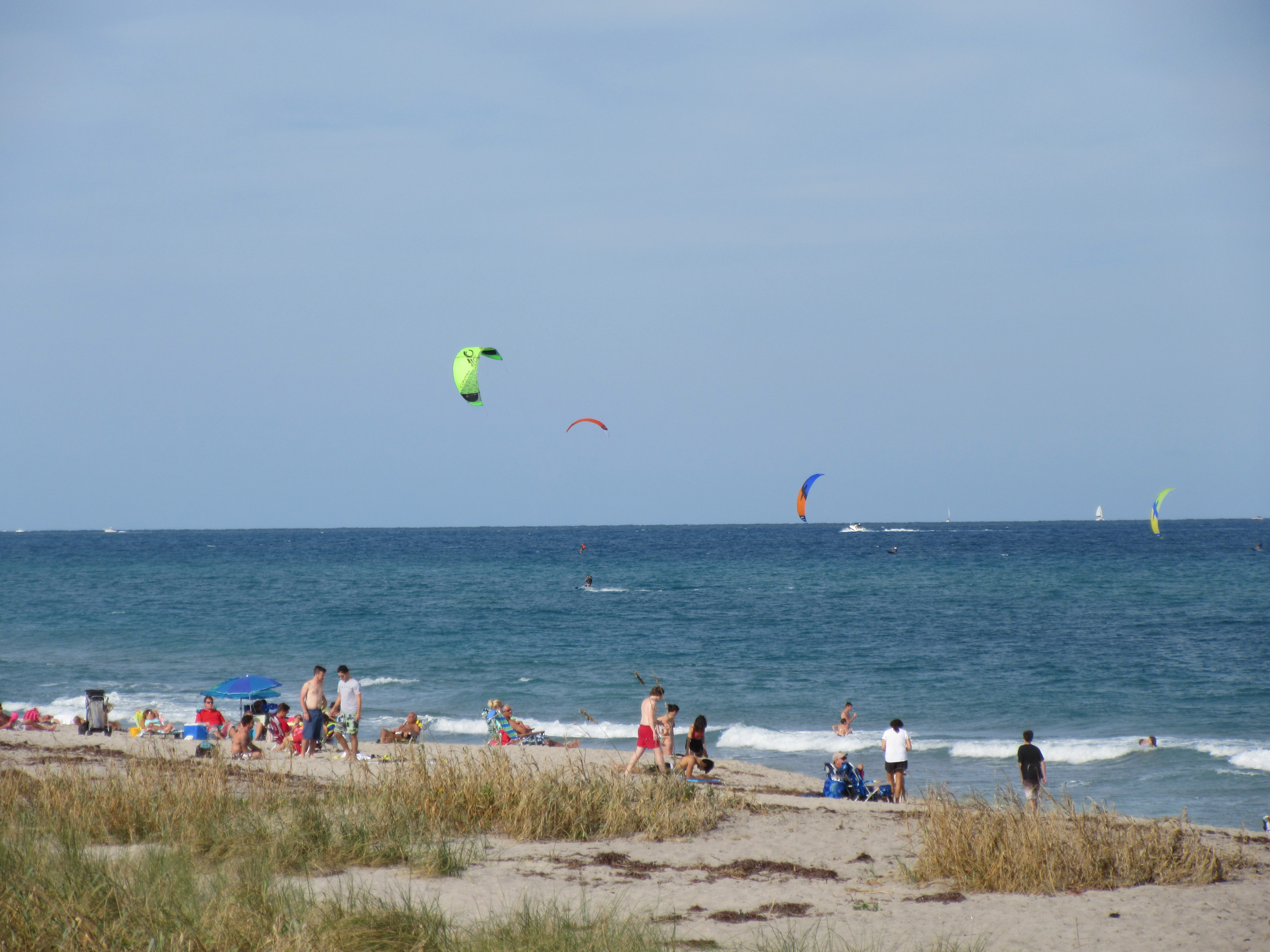 US Highway A1A, Ocean Boulevard, parallels the beach from Juno to the Jupiter Beach Park. The 7 plus mile roadway from Pelican Lake to The Jupiter Pier is boarded on the east side with a broad and shaded sidewalk with numerous covered kiosks and benches to rest under. There are also bike safe lanes on both sides of the road. Scattered showers provide a place to refresh and clean up before heading back to the car. On weekends volunteers set up water stations along the route. At any time of the day, and especially weekend mornings, you will find folks traversing this area under every imaginable type of human propulsion.
Halfway between "The Pier" and "The Reef Club" keep your eyes peeled for the numerous Kiteboarders who will fly along the water and leap into the air on breezy days. One of the unique attractions of the areas beaches is the ample free parking in the parks lots and along the road. This is a unique feature which is rarely found at beaches to the south of us.
The Jupiter Reef Club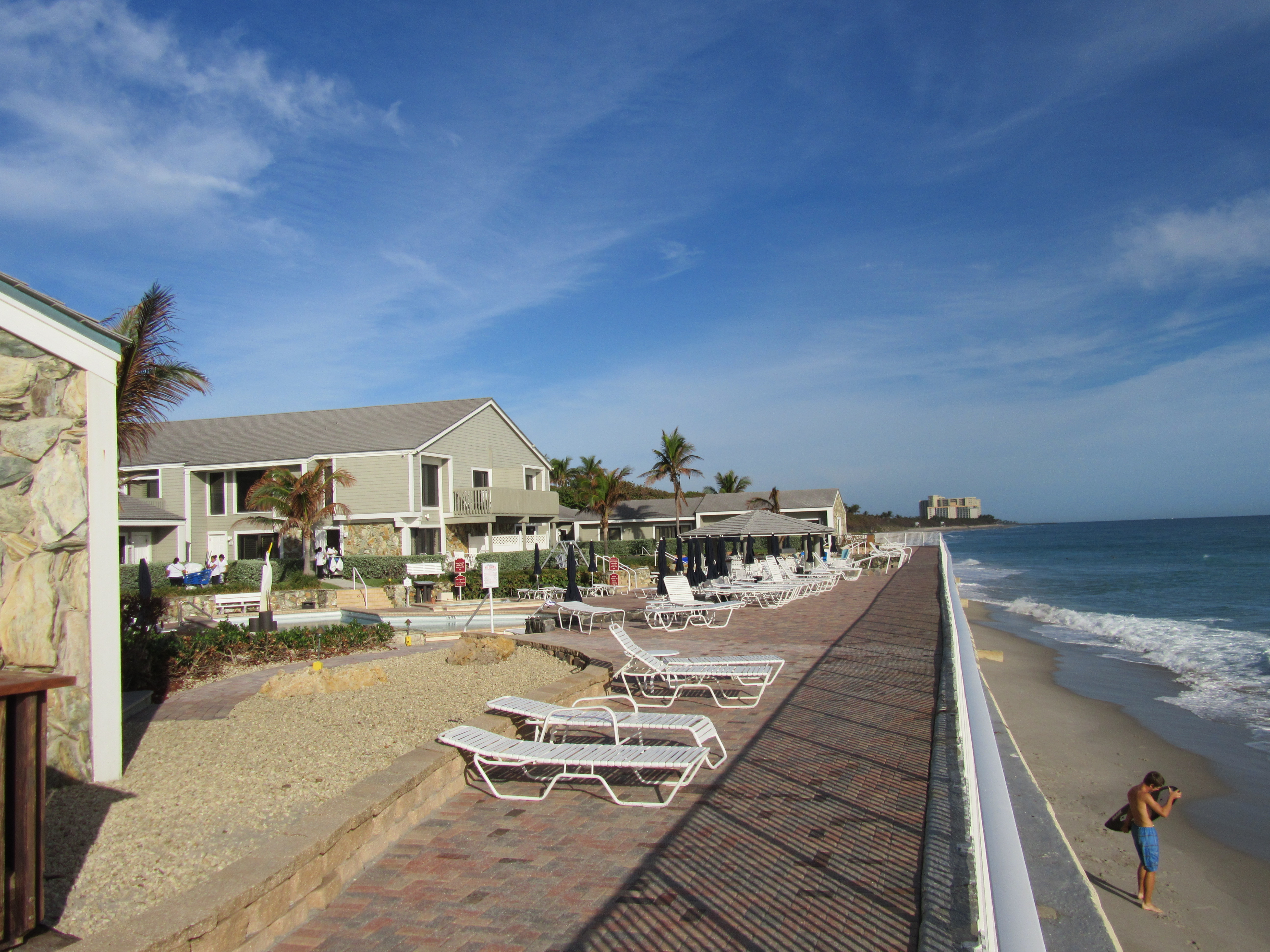 At approximately halfway along this beach you will find The Jupiter Reef Club. Work commenced on the Jupiter Reef Club in 1983, and it opened later the same year. Established as a fixed week timeshare condominium, the Jupiter Reef Club has grown to attract guests from around the world. Guests are comprised of timeshare owners, RCI exchangers, and vacation renters. The spectacular ocean front accommodations are hard to match. Click here for more information on the Jupiter Reef Club www.jupiterreefclub.org/
Carlin Park
North of "Dog Beach" is the 120 acre Carlin Park; a family friendly park featuring ball fields, volley ball, covered pavilions, 2 small playgrounds, bocce courts, a heart health track, a huge parking lot, and even a cozy café, The Lazy Loggerhead Cafe http://www.lazyloggerheadcafe.com/. Many local events such as lifeguarding competitions, celebrity dog washes, food truck events, and 5k marathons set up in the parking area. More than a dozen picnic pavilions with cast iron grills are available on a first come and first serve basis, and larger facilities are available to rent.
Seabreeze Amphitheater
Within Carlin Park you will find The Seabreeze Amphitheater which is a medium-sized entertainment facility hosting up to 2,000 patrons on its grass covered bowl, for theater, concerts, tribute bands, community fundraisers and movies. Amenities include a covered 36' x 35' stage, three dressing rooms, prop/costume storage, green room, rigging for sound and lighting, and access to power for production requirements. Seabreeze Amphitheater is the home to the The Palm Beach Shakespeare Festival, now in its 21st stellar season of bringing high quality theater entertainment to the community. Thousands of county residents have enjoyed the opportunity to see live theater in the park setting which is made possible through a partnership between Palm Beach County and the Shakespeare Festival. Bring your blanket chair and picnic basket. For more information on upcoming events click here. http://discover.pbcgov.org/parks/amphitheaters/Pages/Seabreeze.aspx
The Jupiter Civic Center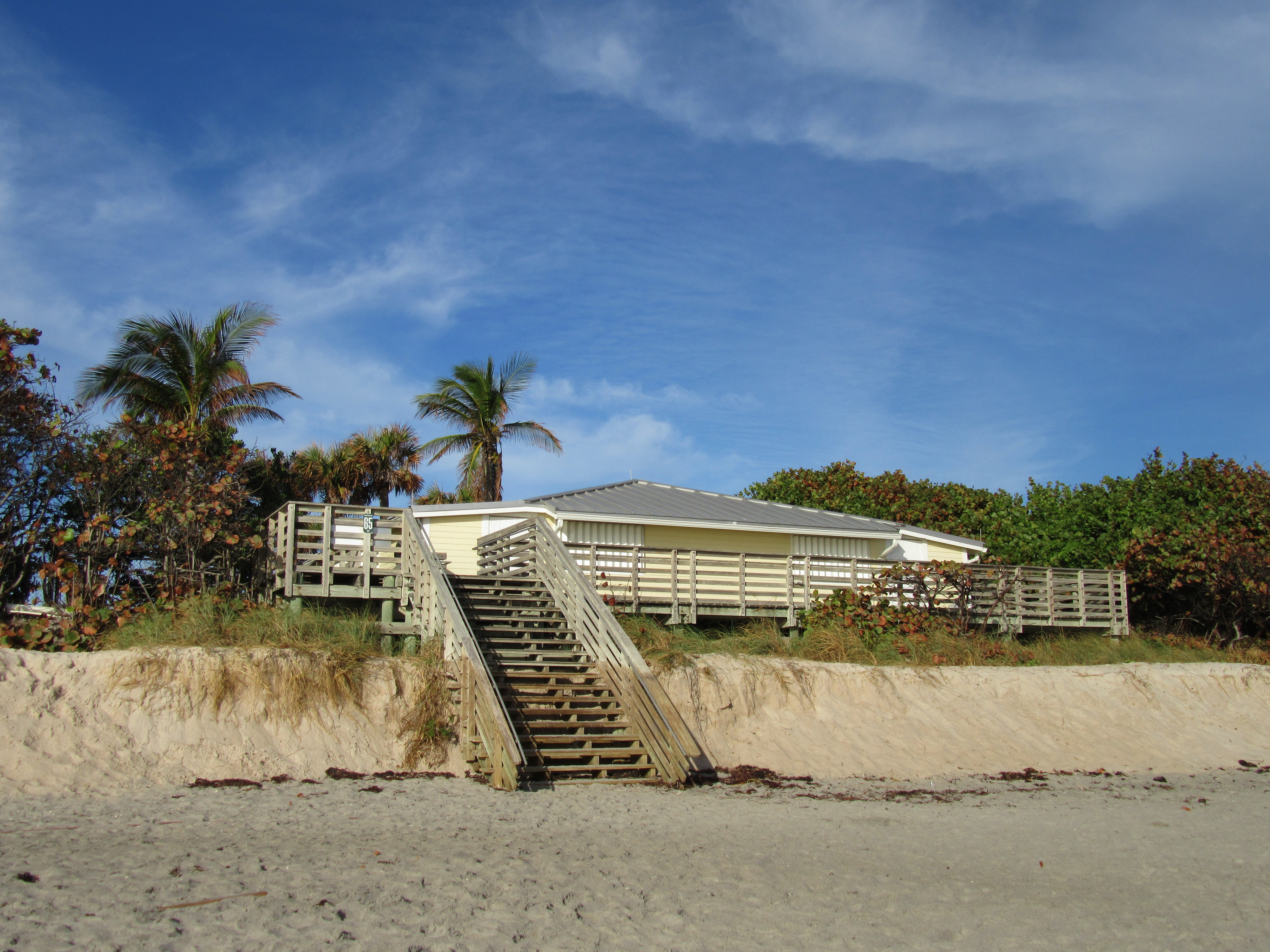 This unique, rustic facility is a real Jupiter treasure. With beach access, the Civic Center's relaxed, old-Florida character lends itself perfectly to any informal occasion. The Jupiter Civic Center, at the northeast end of Carlin Park, is a great place to host your next wedding, reception, birthday party, picnics, family reunions and memorial services. The 50' by 50' facility supports your catered event and boasts a full kitchen, bathroom facilities, a wooden front deck overlooking the beach and ocean, handicapped access, openable front to the beach and table seating for 100 with a maximum occupancy or 225. For more information see https://www.jupiter.fl.us/index.aspx?NID=470
Jupiter Beach Resort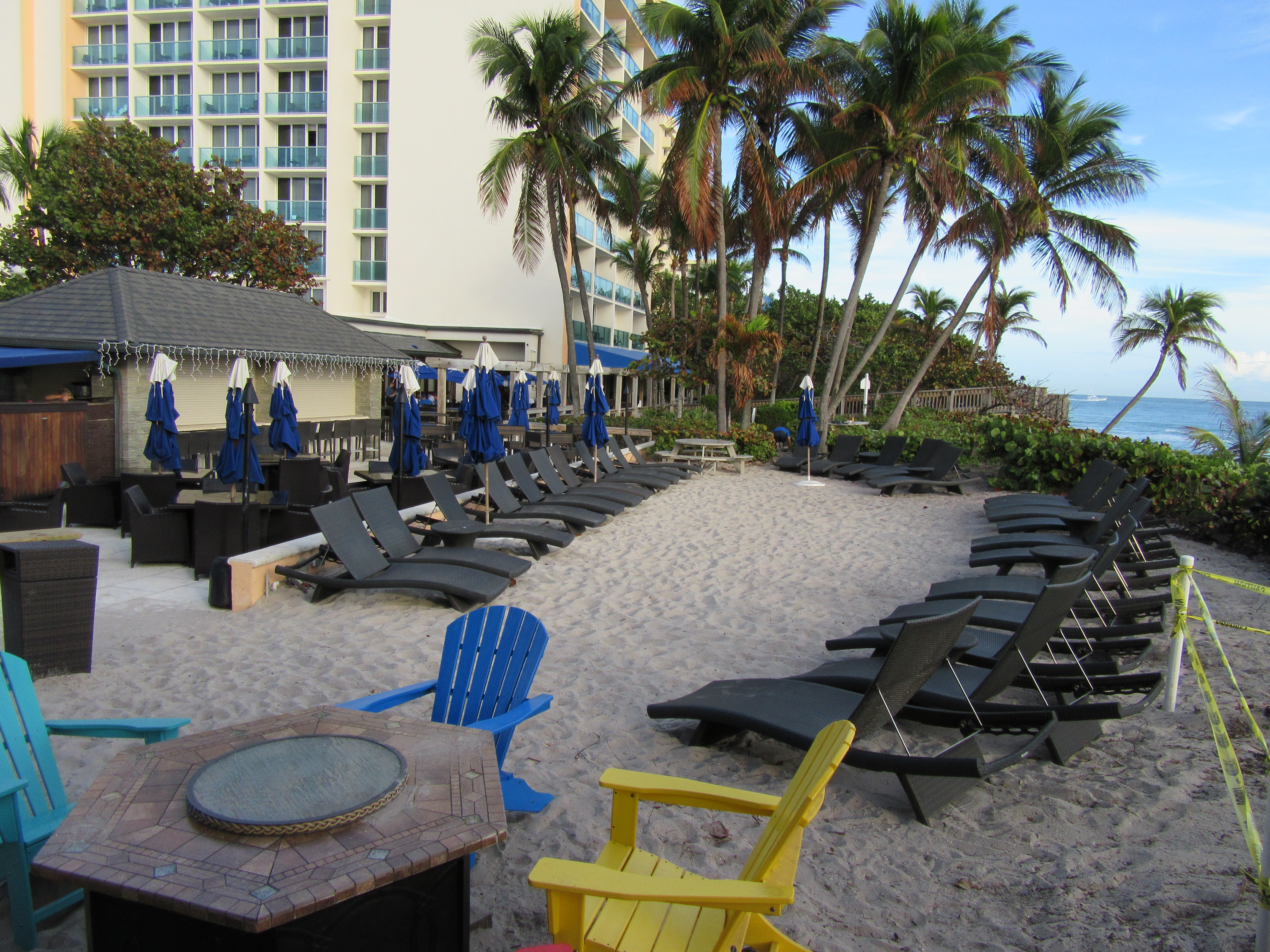 North of Carlin's beaches brings you to the Jupiter Beach Resort, a 4-Star Hotel and Spa set on 1,000 feet of private beach, where the inspiration of the tropics is seen throughout the décor and outdoor patio/bar. Dining options include a Tiki bar or oceanfront restaurant and lounge. There are also plenty of exercise options for those who are fitness inclined. The resort fee covers most amenities, such as beach access, rental chairs, and Wi-Fi in the rooms. The Jupiter Beach Resort and Spa is a hallmark destination for a vacation, wedding or honeymoon package! For more information see http://www.jupiterbeachresort.com/
Ocean Trail Condominiums
Just past the resort as you continue the trek north is a series of large horse shoe shaped condos known as Ocean Trail. These condos offer an ocean view from every unit, a complete pool deck and hot tub, tennis courts, its own private Clubhouse, and a wide variety of events and activities available to its residents. You can even rent a beach cabana and have your meal brought to you right on the beach! This is not a short-term vacation spot, as you must commit to at least 90 days' worth of lease to be considered as a tenant.
Jupiter Beach & Dubois Park
At the northern end of Jupiter's barrier island, we reach Jupiter Beach and Dubois Park. Almost 50 acres of land offers 1700 feet of beachfront access. It is easily the most popular beach in the Town of Jupiter. It offers plenty of fishing opportunities from the (open 24/hr) jetty, lots of parking, picnic spots and tables, and first come first serve and reserved pavilions.
The west side of the park offers more shade and access to a protected lagoon, snorkeling area, The Historic DuBois House, and dramatic westerly sunset views of the Jupiter Lighthouse. The lagoon is perfect for young children to safely enjoy the water and the artificial reefs near the inlet allow snorkelers to explore. The west portion also has a volleyball court and the entire facility excluding the beachfront area is dog friendly if they are on a leash.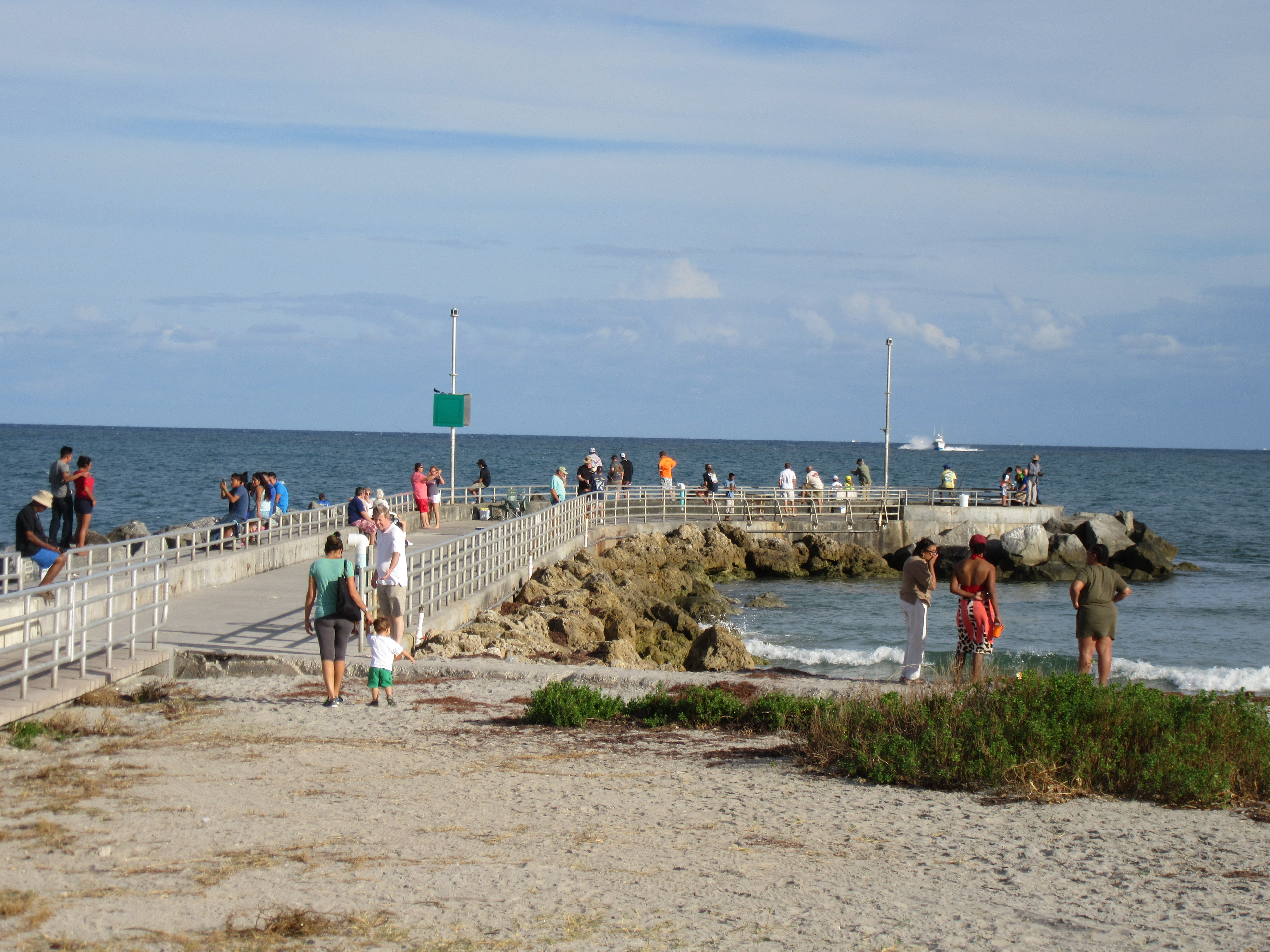 If you are interested in a picnic table you are encouraged to arrive early, especially on the weekends, as they are mostly filled before 10AM. Water shoes or sneakers are also encouraged as the local Australian pines leave tiny pinecone debris that can hurt bare feet, and many of the trails in the park are graded with crushed shells. Manatees and large baitfish pods are frequent visitors, as well as pelicans, seagulls and sandpipers.
Snorkeling under Catos Bridge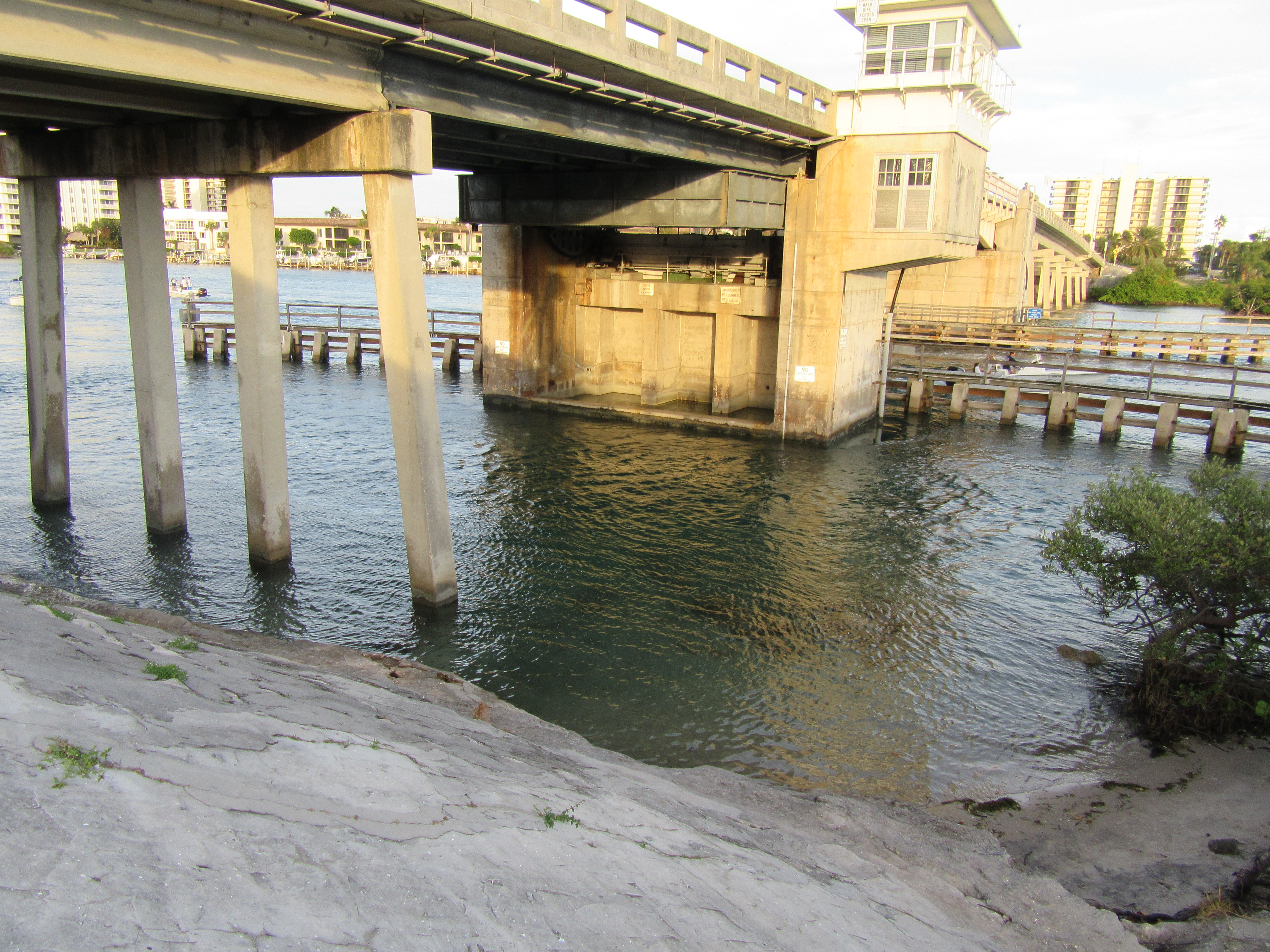 In Tequesta, just north of the Jupiter Lighthouse, Bridge Road heads east to Jupiter Island and Catos bridge spans the Intracoastal. From 2 hours before and until 2 hours after the tide is high the clear ocean waters flood under the bridge where fish of all types congregate to hunt and hide. Park on the north-west side of the bridge and walk underneath to join other snorkelers at this little-known gem. Small multicolored tropical fish will school in the shallow open water staying just out of reach of your outstretched arm. Midsized fish will journey along the pilings and under the shore covered mangroves. And for those adventurous enough to journey between the bridges concrete stanchion and its protective bulkhead you will find Snook and other larger fish of more than 2' in leingth stacked like cordwood waiting for the unsuspecting meal to swim by. If you use a snorkel be sure to bring an approved dive flag or you may be ticketed.
Coral Cove
The ocean side beaches of Coral Cove are typically less crowded in season and can offer a bit more of a getaway. Be aware the surfs shore line is rockier than those found south of the Jupiter Inlet due to the Anastasia Formation becoming exposed. By heading north to Blowing Rocks you will also find some of the best shelling in the area when tides and winds have been right.
The Intracoastal side offers short secluded sandy beaches between the mangroves with gradual shores which offer a more protected experience. Kayakers may choose to launch here and you will find boaters anchored off the beaches. The mangrove lined shores provide a great place for youngsters to search for small fish and crabs.
Blowing Rocks Preserve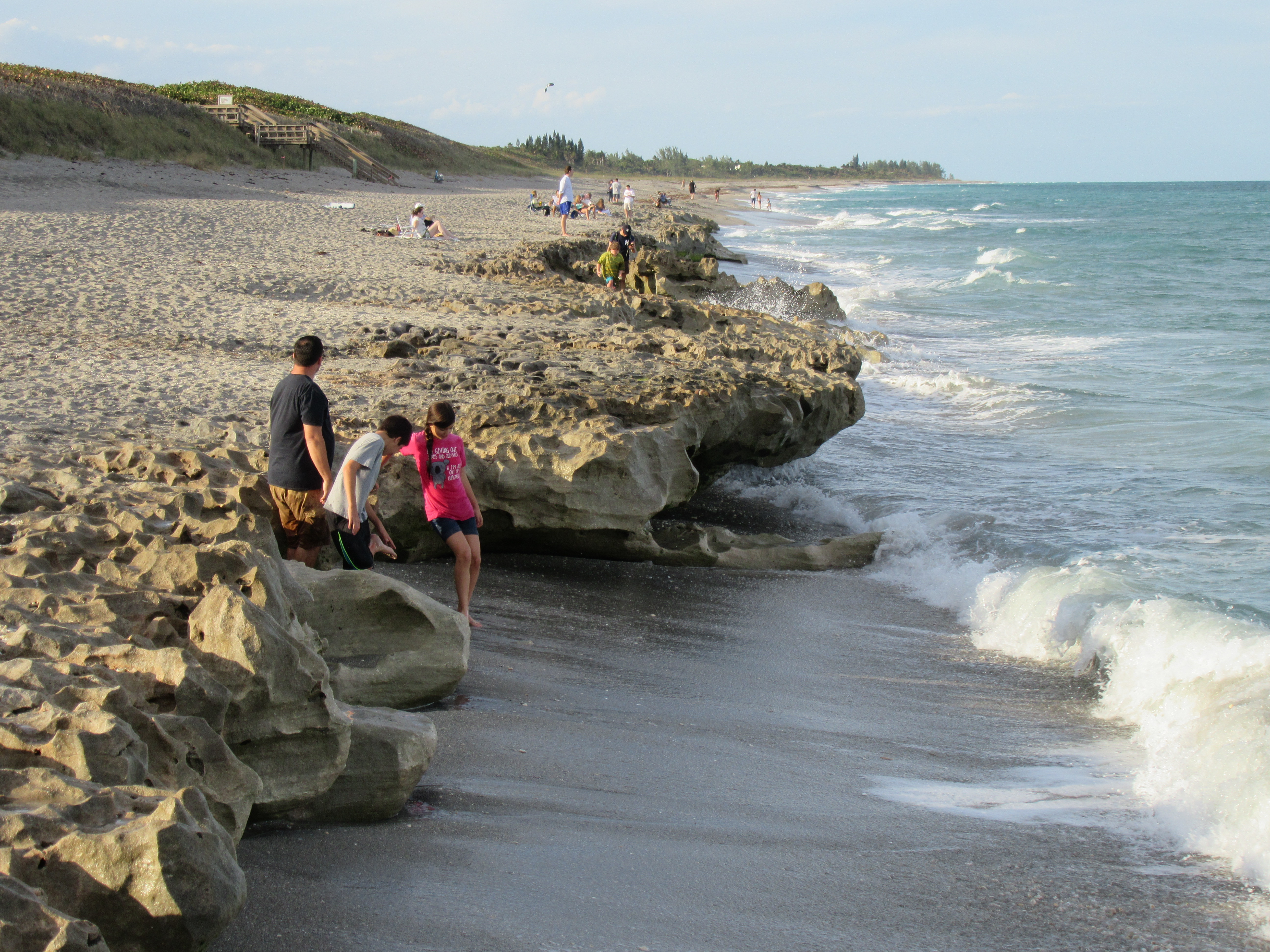 A little over 1 mile north on Jupiter Island you will come across Blowing Rocks Preserve. This natural area extends from the shores of the Atlantic to the Intracoastal for some 5000 feet preserving and protecting one of Florida's most unique ecosystems. From the parking lot, you will walk a short distance on a compacted path under a canopy of Sea Grapes. Additional paths meander north and south form this main trail.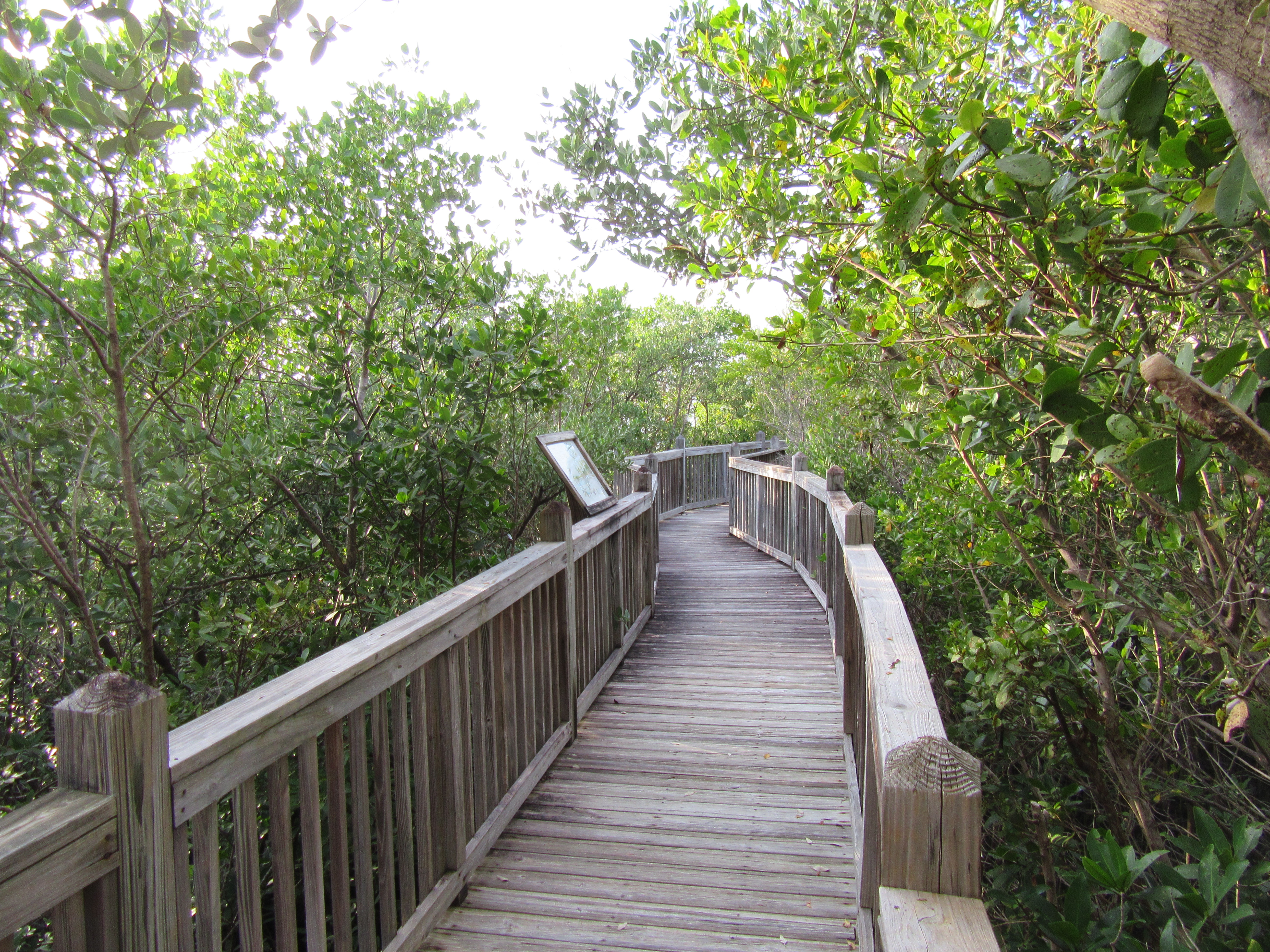 Upon emerging form the Maritime Hammock you will view the areas unique shoreline from a wooden overlook. The shore line rocks are part of The Anastasia Formation which was laid down some 2.5 million years ago and is composed of interbedded sands and coquina limestones formed of whole and fragmented mollusk shells within sand often cemented by sparry calcite. Stretching from Jacksonville, FL to Palm Beach, FL it forms The Atlantic Coastal Ridge. Running along the eastern coast of Florida this elevated ridge allowed for train and later automobile travel to Florida's southern regions and contained its interior waters forcing them to drain south creating the Everglades. Blowing Rocks Preserve is one of the few areas where this formation is exposed.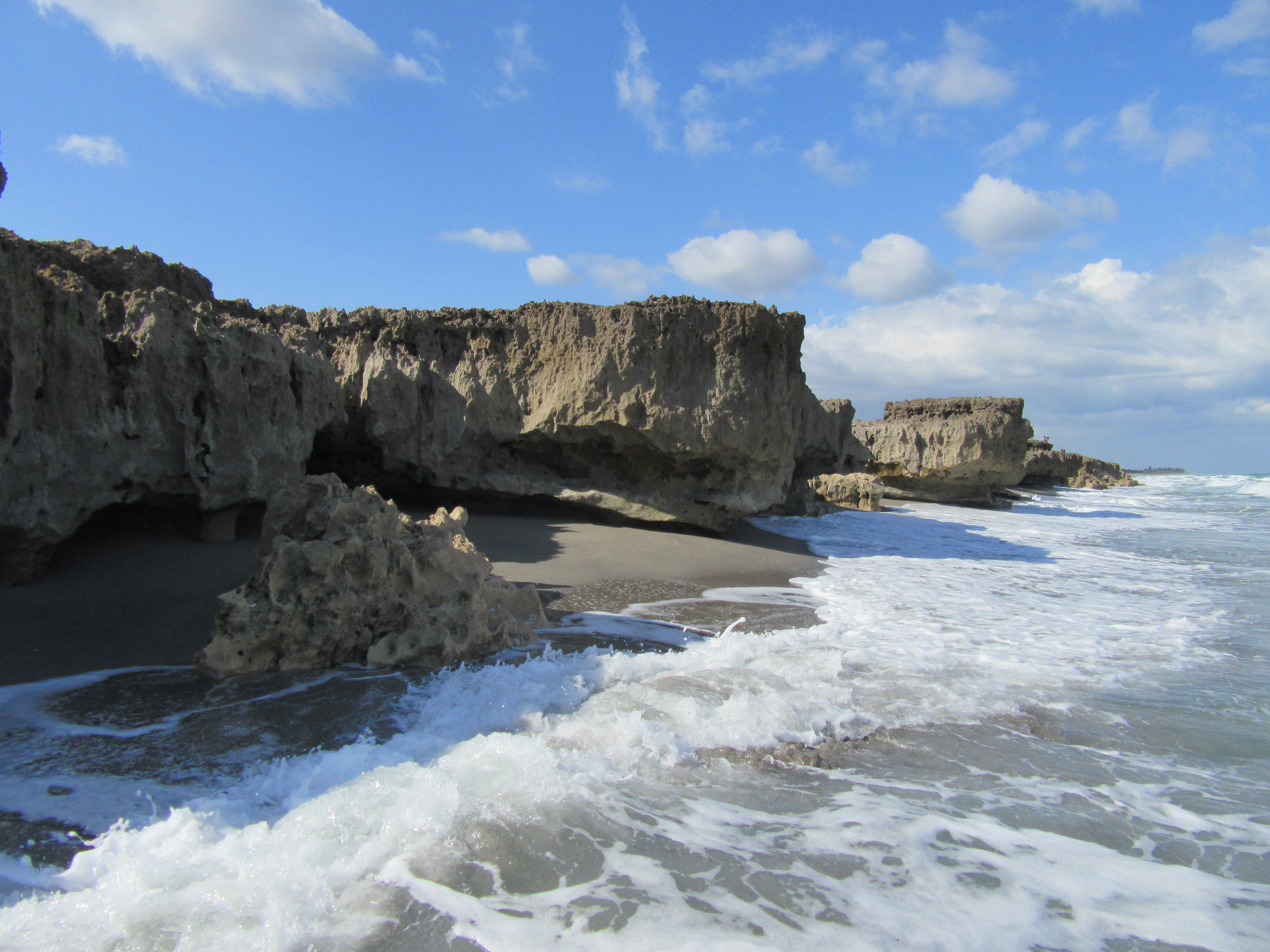 At low tide one can explore below their 10' wall along the oceans sandy shore with shallow waves lapping about and with the hidden caves and passages which abound. At high tide, when the wind and waves are right, the oceans waters hit the wall and "Blow" up to 30' into the air. The constantly shifting sands cover and uncover and open and close rocks and passages forming an ever-changing environment. This constant battering by wind and waves creates sharp and jagged exposed edges so care should be taken while scampering atop them.
On the eastern side of South Beach Road is the Hawley Education Center which provides the visitor information describing the unique features of Blowing Rocks Preserve. There is also Megan's trail which travels to and along the Intracoastals shoreline, an accessible board walk to the Intracoastal and a Butterfly Trail. Blowing Rocks Preserve is operated by The Nature Conservancy which manages approximately 63,748 acres in Florida.
For more information on Blowing Rocks Preserve and The Nature Center go to
http://www.nature.org/ourinitiatives/regions/northamerica/unitedstates/florida/placesweprotect/blowing-rocks-preserve.xml
Let me know if in your journey you reach The Trails End.