Federal Pacific Panel Box Defects
The following information is deemed reliable but should not be your sole source for decisions you make.
Copies of this article and many more topics can be down loaded from my web site. 7/3/2016
If there is a Federal Pacific Electric (FPE) brand panel box in a home you are considering purchasing your insurance company may require you to replace it before they will write an insurance policy. Or they may charge you a premium on your policy.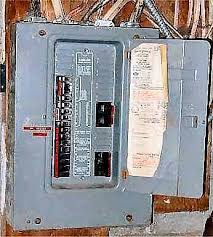 In single family homes most insurance companies will require theses panel boxes to be replaced. In most multistory condomunimum type buildings this is typicaly not required. It is recomended your buyer contact their insurance company or the building management regarding past conncerns and present requirements for thesees elecric panels.
In homes built between 1950 and 1990 millions of FPE brand electric circuit panel boxes were installed. The circuit panel box is the control and safety center of your homes electric system. The breakers inside the panel box are designed to guard your home against serious electrical problems by preventing circuit overload, short circuits and outside power surges coming into the panel. When an overload occurs, a breaker protects you by tripping (off), thus shutting down the power to the circuit. However, if a breaker is defective or not operating properly, the risk of fire becomes imminent.
Testing of FPE panel boxes in the 1980's indicated that one in four circuit breakers in the panel box (Stab Lock brand) were subject to failure. In 1983, the Consumer Product Safety Commission closed its two-year investigation and felt it impossible to create a product recall at the time because of budget issues. See the report at the end of this document.
A New Jersey court later ruled that FPE committed testing fraud and a cover-up, labeling the breakers as meeting the standards set by the UL when in reality, they were defective. FPE panels and breakers continued to be installed in millions of homes that to this day still run the risk of an electrical fire.
An estimated 2,800 fires each year directly result from FPE panel breaker malfunction. FPE has been out of business for many years and there are no class action remedies available at this time. Replacement of an electric panel box in a single family home will typically cost between $1,000.00 and $1,500.00.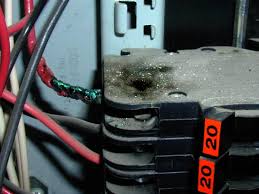 Multiple tests performed on the breakers since the 1980s have proven that one in four Stab-Lok breakers are defective and will not properly trip off. FPE panels have at least five design issues that are no longer allowed by code: the gutter space, the wire bending space, spring-mounted bus, breakers that are on when down, and the split bus service equipment. Experts say that FPE panels can appear to work fine for years, but after one overcurrent or short circuit, they can overheat and become fire hazards. And that FPE panels produced during that time frame would not conform to today's updated safety codes and would no longer be allowed to be sold to the general public.
Some of the examples cited by experts as to why FPE panels would not pass today's updated safety codes are:
* Wires may be crowded inside the panel box.
* Bus bars may be spring-mounted.
* Breakers may be still active when in the down position.
* Split-bus breakers may no longer meet updated safety codes.
* Breakers may unexpectedly trip when the deadfront cover is removed.
* Breakers may have loose connections to the bus bars.
* Breakers are often jammed within their sockets, which can cause overcrowding within the panel.
* Breakers can easily split when placed into sockets.
Other panel boxes that may be of concern include: Zinco, Bryant, Push Matic/Buldog, Sylvania, Challenger, and older ITE brands.
If the home you are purchasing is approaching 30 years old your insurance company may require a 4 Point Inspection. The 4 Point Inspection looks at the condition of the Roof, Electric, Plumbing and Air conditioning systems in the home. The brand of your electric panel will be reported to your insurance company in a 4 Point Inspection Report.

Report by The Consumer Product Safety Commission regarding
Federal Pacific Electric "Stab-Lok" service panel in the house.
The Consumer Product Safety Commission announced today that it is closing its two year investigation into Federal Pacific Electric Stab-lok type residential circuit breakers. This action was taken because the data currently available to the Commission does not establish that the circuit breakers present a serious risk of injury to consumers. The Commission investigation into Federal Pacific Electric (FPE) circuit breakers began in June, 1980, when Reliance Electric Co., a subsidiary of Exxon Corporation and the parent to FPE, reported to the Commission that many FPE circuit breakers did not fully comply with Underwriters Laboratories, Inc. (UL) requirements. Commission testing confirmed that these breakers fail under certain UL calibration test requirements. The Commission investigation focused primarily on 2-pole residential circuit breakers manufactured before Reliance acquired FPE in 1979. To meet UL standards, residential circuit breakers must pass a number of so-called "calibration tests." The purpose of these tests is to determine whether the circuit breakers will hold the current for which they are rated and also automatically open or "trip" (shut off the current) within the specified time limits if over-loading of the circuit breakers causes current levels in excess of the breaker's amperage rating. (Overloading can occur because a consumer plugs too many products into a circuit or due to the failure of a product or component connected to that circuit.)
While the Commission is concerned about the failure of these FPE breakers to meet UL calibration requirements, the Commission is unable at this time to link these failures to the development of a hazardous situation. According to Reliance, failure of these FPE breakers to comply with certain UL calibration requirements do not create a hazard in the household environment. It is Reliance's position that FPE breakers will trip reliably at most overload levels unless the breakers have been operated in a repetitive, abusive manner that should not occur during residential use. Reliance maintains that, at those few overload levels where FPE breakers may fail to trip under realistic use conditions, currents will be too low to generate hazardous temperatures in household wiring. Reliance believes that its position in this regard is supported by test data that is provided to the Commission. The Commission staff believes that it currently has insufficient data to accept or refute Reliance's position. The Commission staff estimates that it would cost several million dollars to gather the data necessary to assess fully whether those circuit breakers which are installed in homes but which may fail UL calibration tests present a risk to the public. Based on the Commission's limited budget ($34 million for fiscal year 1983), the known hazards the Commission has identified and must address (involving products of other manufacturers) and the uncertainty of the results of such a costly investigation, the Commission has decided not to commit further resources to its investigation of FPE's circuit breakers. However, despite its decision to close this particular investigation, the Commission will continue its investigation of circuit breakers generally. The Commission can reopen its investigation of FPE breakers if further information warrants.
The Commission advises consumers to take certain safety precautions with all circuit breakers and fuses. Consumers should: -Know your electrical circuit. Know which outlets and products are connected to each circuit. -Never overload any electrical circuit by connecting too many products to the circuit. Be particularly careful not to connect several products that demand high current (such as heating appliances) to a low amperage circuit. -Comply with local building codes in wiring or adding electrical circuits. Make sure the wiring and devices used in the circuit are connected to a circuit breaker or fuse of the -Immediately disconnect any electrical product if problems develop. Have the product examined by a competent repair person. -Investigate to determine why a fuse blows or circuit breaker trips. Do not simply replace the fuse or reset the breaker. If a fuse blows or breaker trips, it is often a warning that the circuit is overloaded. Check the circuit for causes of overloading (for example, too many appliances plugged in, a malfunctioning product, a short circuit). When in doubt, consult a licensed electrician. Consumers who have questions concerning circuit breakers, or who wish to report information relating to their safety, may call the U.S. Consumer Product Safety Commission's toll-free safety hotline at 800-638-CPSC, teletypewriter for the hearing impaired at 800-638-8270 (Maryland only 800-492-8104).