By John Curtin Home Inspector
Content Approved and Protected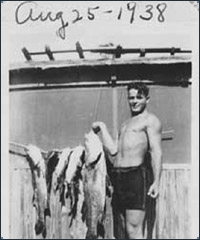 On a hot September day in 1931 a strapping 23-year-old man, along with his step-brother Charlie and friend John, road a hobo's box car across the Loxahatchee River. For 5 years Vincent Natulkiewicz and his compatriots rode the rails across America, attempting to escape the Great Depression and Trenton, New Jersey in hopes of finding a young man's fortune.
As they reached Jupiter, FL and crossed over the Loxahatchee River, looking out the box car door, they could see the Atlantic beckoning. The river emptied its waters into her eternity, the Jupiter Lighthouse offering a protective beacon to the growing mariner traffic, and drawing it's beam across fishermen on the sandy shores and shady palms lining the river's banks. This was a different land than the stifling Eastern cities, the endless grass of the mid plain States and the dry deserts of the Southwest. This was certainly more inviting then the jails of Pancho Villa, the end results of a series of missteps along the New Mexican border. They jumped from the train in search of what the small hamlet of Jupiter could offer and quickly blended in unnoticed by the established population with the other travelers and vagabonds passing through.
Having only the tools and survival skills honed through a Trenton upbringing and 5 years on the road the three friends quickly established a trapping camp in what is now Carlin Park.As their fledgling business developed a bit of a profit they were able to buy a car, and were then accepted into the community. Sadly, on December 17, 1931 all of their hard work and plans would disappear as tensions among the three grew out of control. In the chill of the wintry Florida swamp Charlie lay dead, shot by Vince's step-brother, John.
A murder was truly an unheard of event in the young communities of Palm Beach County and the trial garnered much attention, where John was quickly found guilty and sentenced to life imprisonment. Suddenly alone and engulfed in the swirling controversy, Vince longed for an escape, and a return to the cold monotony of Trenton seemed the only option. He soon learned you can never really go home and after only a year of humdrum work on a large dairy farm he began to once again long for the semi-wilds of the Florida scrubland and the friends he had made in his tropical paradise.
The new year of 1934 found Vince back in Jupiter but a recent Hurricane had changed the lands he loved, and the controversy surrounding Charlie's death at his brother's hands still haunted him. Once again looking for an escape, Vincent decided to travel far up the wild Loxahatchee River to a narrowing bend where a motor boat could go no further.On a high piece of ground, he established his temporary camp and then borrowed money from his sister to combine with his meager earnings to purchase a fewacres of wild scrub and swamp. Now closer in age to 27, you would think you were gazing at Johnny Weissmuller in his role as Tarzan, shirtless and dressed in only cut off shorts as he hunted the gators, wild cats and snakes of the land. Vince was well-respected by the local population and made many friends among the established elders of Jupiter such as the Dubois and Lanhart's. The children of Jupiter enjoying the adventure of his camp and even wealthy traveling socialites searching out exotic destinations and stories to take home found themselves in the "Trapper's" camp.
The combination of Vincent's muscular physique and his habits of working and living off the land struck a formidable figure. His life took a detour into the realm of amateur boxing around 1938. Boxing was a weekend diversion among the young men of the area and it was thought with Trapper's size and strength he could not fail and Jupiter would have a local hero and champion. OneSaturdaynight the young men and ladies of Jupiter hopped into their jalopies and headed down to West Palm Beach to claim their victory. But boxing also requires a level of finesse and grace that Trapper did not possess. His training consisted of wrestling alligators and a crude punching bag did not give him the skills needed to topple the Palm Beach's local champion. Early in the first round, Soccer Coe dropped Trapper with a well laid punch and Trapper never fought again.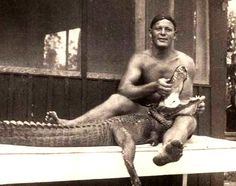 By 1940 Vincent Natulkiewicz had realized that the seasonal income of trapping was not enough, and he became "Trapper Nelson" as he entertained and sold his wares at his "Zoo and Jungle Garden" on the Loxahatchee River."Trapper" attracted much attention from the traveling elite rubbing elbows with Gary Cooper, Gene Tunney, Patricia Neal, various Whitney's, DuPont's and Kennedy's, and Edsel Ford, who would serve as a particular friend in future concerns.Fridaynight poker games were a regularly scheduled occurrence with locals and the well-heeled mingled together. It was also said "the locals would jabber about the high-living Palm Beach ladies whose idea of chic was to slip away for a weekend in the jungle and play Jane to "Tarzan of the Loxahatchee".
Trapper was a shrewd business man and in addition to operating his camp and zoo he sold furs, plants and other native materials to the markets of New York and other urban environs. When a Wall Street Journal subscription indicated the skyrocketing value of local land he purchased acreage along the upper Loxahatchee River including areas we now know as Riverbend, Rivers Edge, The Isles of Jupiter, and Kitchen Creek. Historians speculate that his social connections aided him in amassing over 800 acres of prized Jupiter-based land.
In 1941 the population of Jupiter was 311. When the war came there were 145 men between the ages of 17 and 38 and all but a handful were drafted. Jupiter's population was cut nearly in half, but there was explosive growth just to the north at what is now known as Jonathan Dickinson State Park. The U.S. Army established Camp Murphy as a training and research base for the developing radar detection systems.When it was fully staffed in the summer of 1942 some 5,752 enlisted men and 854 officers populated its barracks and classrooms. This sudden population growth put pressures on and brought changes to Jupiter including the early development of a commercial economy.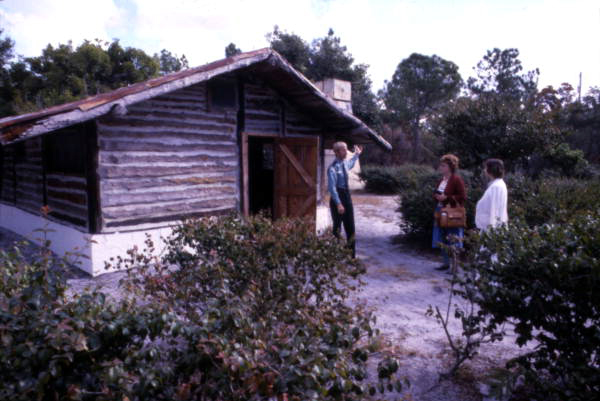 On December 7, 1941 Pearl Harbor was bombed and war had raged in Europe for many years. Trapper would soon be 33 years old and married in order to escape the draft. Inlate 1942 he was conscripted into service and sent to Texas for boot camp. While training he suffered a serious leg and tendon injury that enabled him to be transferred to Camp Murphy and return to his beloved Jupiter. Trapper was somewhat of a rascal and an independent sort. Snakes and spiders were a big problem for the young recruits who were unfamiliar with the climate and environs of South Florida. Trapper's local knowledge and work helped to keep dangerous animal populations under control and the soldiers safe. As an MP he was assigned to guard the camps perimeter and this enabled him access to his own property on the camps western perimeter. He would stay and hunt there for days at a time and led a rather solitary and independent life.
While it was rumored Trapper would have dalliances with some of the wealthier ladies that visited the area he was known around town to be somewhat awkward with the fairer sex. His partially arranged marriage was difficult from the start and his wife left him for another man. The separation arrangement and subsequent divorce complicated his financial dealings later in life.
With the end of World War II in 1945 Trapper turned his full attention to his camp and property. He purchased many more acres of land, entertained guests, trapped gators, bob cats, snakes and wild pigs. He harvested wild plants and engaged in other ventures that he would sell to markets throughout the country. His farm included fruit trees, vegetables and the ever present pineapples which Jupiter was well known for growing. His compound grew to include two main buildings, a large tiki hut shelter for visiting tourists and overnight stays by Boy Scouts, a water tower, garage and maintenance building and many other smaller structures. His riverfront location boasted a covered dock and boat house to support the many guests who would come by river. He also built cages and other environs to display the wild animals he caught and his store sold many a souvenir. "Trapper's Zoo and Jungle Garden" was now in full swing and a well-known attraction. Locals and tourists would come up river for the spectacle and the adventure. The young boys of the town were a great source of cheap labor for Trapper and they would entertain themselves on the rope swing from which they leaped into the Loxahatchee's clear and cool fresh water. It was truly a wonderland for an adventurous lad with caged gators, adventure on the river and stories told by camp fire light. There would also be nightly entertainment of card games and drinking for the local and well-heeled men of the town. Through the 1950's Trapper's camp was a unique place of wonder for the residents and guests of Jupiter and its surrounding areas.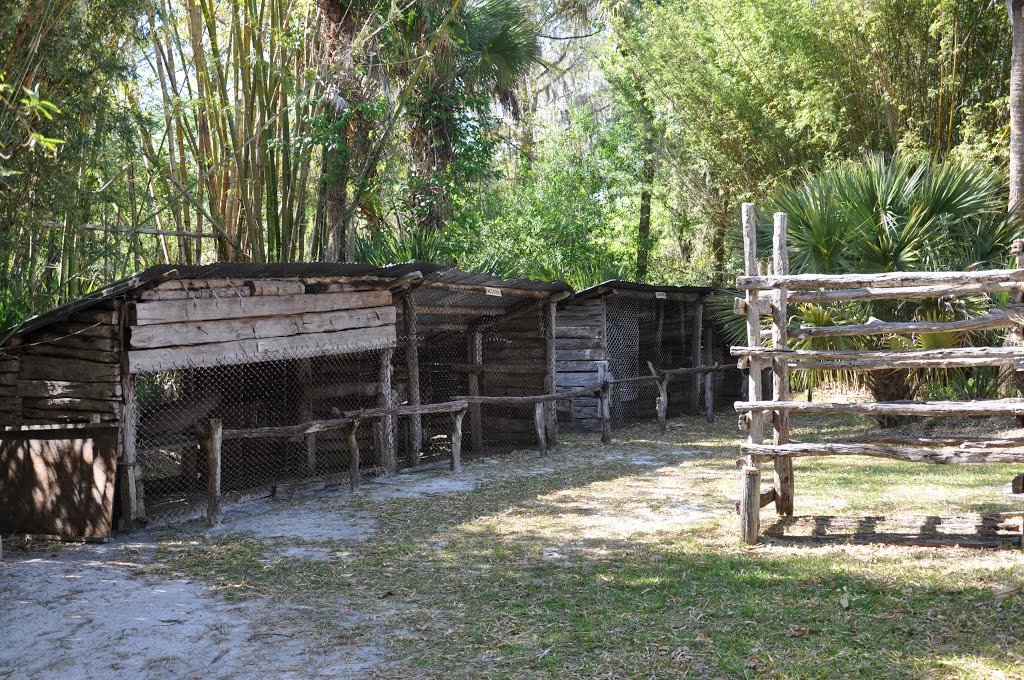 In 1950 the military populations had been reassigned or sent home and the population of Jupiter was roughly 300, similar to what it was when the war began in the early 1940s. But by 1960 the population had swelled to 1,200 and by 1970 would reach over 3,000 people. The growth of Jupiter brought the inevitability of change to Trapper's Camp and his lifestyle. By river it was 10 miles and many hours to Trapper's Camp. But with development the once impenetrable 5 miles of land from the Camp to Jupiter became a 15-minute drive by automobile on newly built roads. As surrounding properties were developed, civilization encroached upon him. Trapper was land rich but this caused a problem as tax values rose. The increasing financial burden could not be supported by his income and he was reticent to sell his properties.
With the growing town came increasing bureaucracy. Regulators and inspectors descended on his camp requiring improvements for the animal's living conditions and the structures of the camp. When Trapper's bathroom facilities were declared unsanitary he improved them and installed running water but when the new facilities were inspected they were still declared unsatisfactory. Those same facilities are in current use by the State Park almost 60 years later. Land developers began to eye Trapper's properties while the once welcomed young of the town sought a different type of entertainment on the weekends. These changes and continuing growth brought an understandable sourness to Trapper's personality. In August of 1960 Trapper Nelson closed his camp by dropping a large tree across the river at the narrows just up from his property effectively preventing motorboats from reaching him.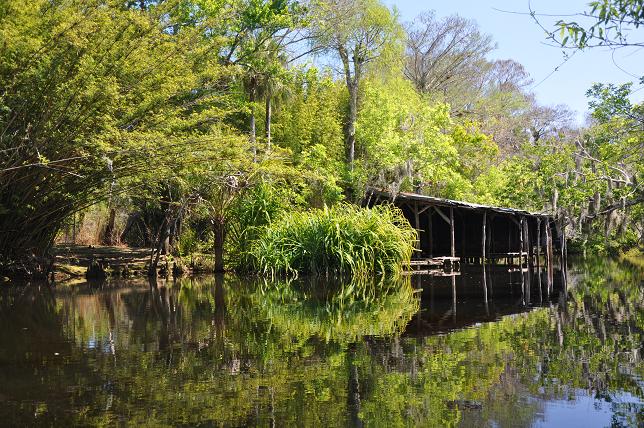 Throughout the later years Trapper dialogued with family members from New Jersey and trusted local friends regarding ways to save his property or sell it profitably. Development was coming slowly but surely, and the treachery, back dealing, and uncertainty that Florida land speculation is well known for was no stranger to Trapper. Trapper's tax bills continued to amass, but in August 1964, at the last moment before a tax judgment was about to be levied, Trapper was able to cobble together a deal and sell some of his land. This would enable him to pay off his tax debts, settle a difficult and complicated judgment with his ex-wife, and retain a good portion of his 800 acres' holdings. Trapper could now breathe a small sigh of relief, invest in some modern improvements on his now private land and look at his future. In the spring of 1965 transactions were finalized and what was at one-time Trapper's land would soon begin to sprout the communities of Riverbend and Turtle Creek.

Now an older man of 57 years, Trapper's physical health declined and his personality continued to sour. In the coming years he would drive away friends who came to visit and complain about pain in his abdomen. On Tuesday, July 30, 1968 Trapper was supposed to come to town to meet with some old friends at the Dubois Fishing Camp. As the day passed with no sign of Trapper his longtime friend John Dubois headed out to the camp and after briefly exploring the area found Trapper lying dead on the ground under his tiki hut with his shotgun besides him. Trapper had been dead for a number of days exposed to the South Florida heat. A gunshot wound to the stomach was officially deemed a suicide, but speculation still rages to this day about whether Trapper actually killed himself or was killed by a would-be robber or unwanted visitor.Looters and youth swarmed his lands, and in a short time, the buildings were ransacked, and belongings were stolen or destroyed. Much of Trapper's personal belongings, history and lifestyle would be lost forever.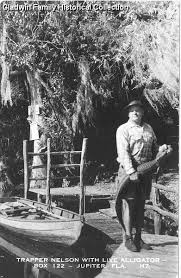 At the time of Trapper's death, he was involved in negotiations with the State of Florida to sell much of his properties with the agreement that he could remain at his Camp until his death. Throughout much of this negotiation Trapper was his own worst enemy with respect to getting it completed. After his passing a deal was finally struck which would allow the State to acquire the land along the Upper Loxahatchee River in conjunction with a trade of the highlands the State owned which is now the Jupiter Hills Country Club and golf course. This deal enabled the upper reaches of the Loxahatchee River to be protected from development and secured in its natural state. It has since been declared a National Wild and Scenic River and will be protected for all time. Trapper's Camp is now part of Jonathan Dickinson State Park. Locals and tourists alike can travel downstream by kayak or canoe from Riverbend Park in Jupiter Farms or upstream from Jonathan Dickinson Park on a guided pontoon boat to visit Trapper's camp. At the camp a Ranger will explain its history and they can stand in the footprints of its past and listen for the laughs of children, the boasting of gambling men, the wide eyed wonder of northern tourists being transported to a tropical wilderness and the lusty dreams of young ladies. And you will think of Vincent Natulkiewicz, born on November 6, 1908, to become a young vagabond of the Depression and who would eventually be known as Trapper Nelson, Jupiter's Tarzan of the Loxahatchee.
For more information on the life of Trapper Nelson and the history of Jupiter be sure to read the books of James D Snyder. Among them are "Life and Death on the Loxahatchee: The story of Trapper Nelson", "A Light in the Wilderness: The Story of the Jupiter Lighthouse", "A Guide to Jonathan Dickinson State Park", "A Trip Down the Loxahatchee in Paintings and Photographs", and "5000 Years on the Loxahatchee"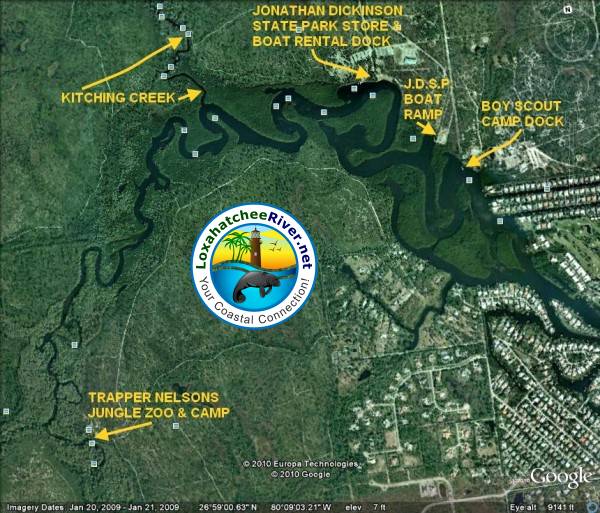 Map