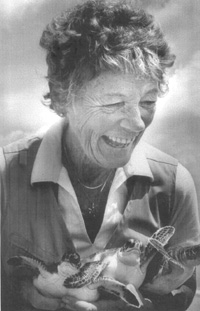 By John Curtin Home Inspector
Content Approved and Protected
One night as she walked along Juno Beach, Realtor Eleanor Fletcher was struck by a sight. Out of the thousands of baby turtles that she saw hatching every year many were struggling in the sand, moving toward the dunes and tree line, instead of toward the water. Concerned by their imminent expiration Eleanor began to research sea turtles and their hatching areas, trying to discover why the hatchlings were so confused. That research led to an idea to bring education classes and clinics at her home, teaching children and local residents about the effects of ambient light and development on turtles that lay their nests along beachside communities.
Soon the classes expanded into much more, using the space above her real estate office, and Eleanor became locally known as "The Turtle Lady". In 1983 she and her supporters opened the Juno Beach Children's Museum in an old home that was available inside Loggerhead Park. Its efforts to provide a more expanded education about conservation and protecting the turtle's habitat deserved a new name, and it was officially renamed "The Marinelife Center of Juno Beach" in 1990.
The center's earliest activities included marking and cataloging turtle nests, taking in injured or sick turtles, rehabilitating them, and releasing them back into the ocean (if possible). Temporary turtle residents were housed in a series of round tanks for visitors at the center to view and learn about. Smaller tanks were also available, full of baby loggerhead and green turtle hatchlings found in distress or turned in by local residents. High school students got the chance to work at their favorite beachside locations in exchange for volunteer hours spent cleaning tanks, teaching visitors and students, helping maintenance teams or inside the gift shop, and walking/marking the beaches in search of newly discovered nests. Soon summer camps, student field trips, outreach programs and volunteers would bring more than 200,000 people through the doors of the campus every year.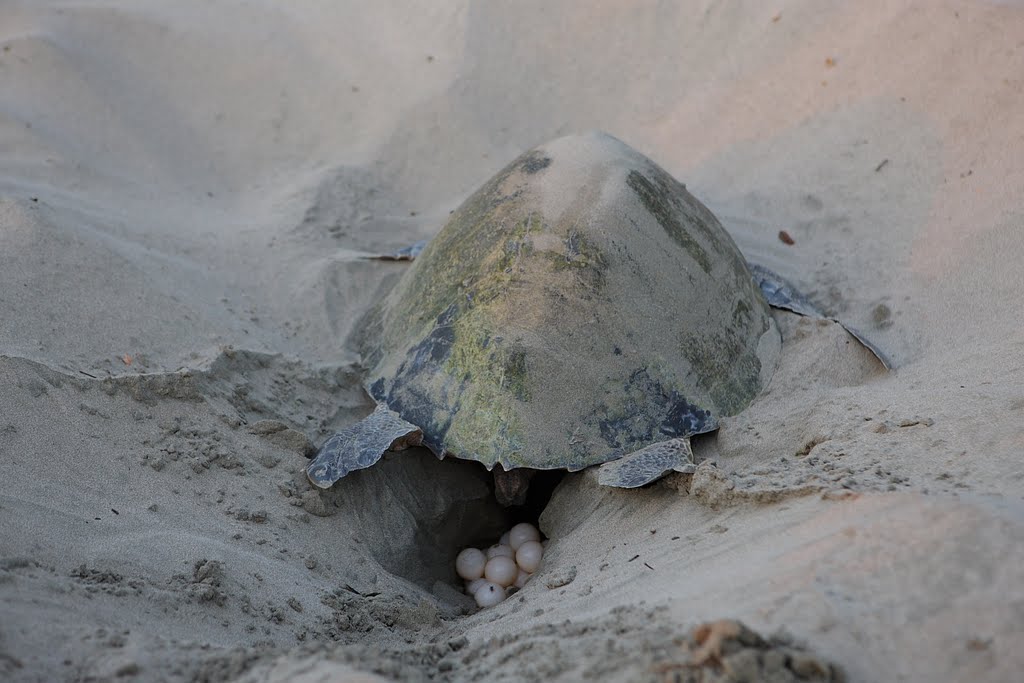 After many successful years of growth and expansion, the small facility was quickly outgrown, and a brand new "green commercial building" was designed and constructed in 2007, changing its name a final time to the local nomenclature it had adopted: Loggerhead Marinelife Center. The new facilities include a state of the art hospital, research lab and a resource center. The interactive Exhibit Hall is wall to wall with fun factoids about the various forms of sea life in our local waters, filled with aquariums of native fish, and is highlighted by an enormous replica skeleton of an ancient turtle. A learning center offers a range of educational and interesting features, and is a great meeting area for the nighttime tours when the teams scout the beach for a nesting turtle. There is a huge marine-themed gift store that features everything from educational storybooks and toys to locally printed books and artisan trinkets and crafts. The gift store also offers sea turtle adoption and gift cards, for a truly unique and special gift. The new facility also offers access to a guarded beach, a nature trail, a playground and picnic pavilions. Guy Harvey even lent his support to the new facility, licensing an incredible mural for the center, the only sea turtle hospital in Florida between Orlando and the Florida Keys!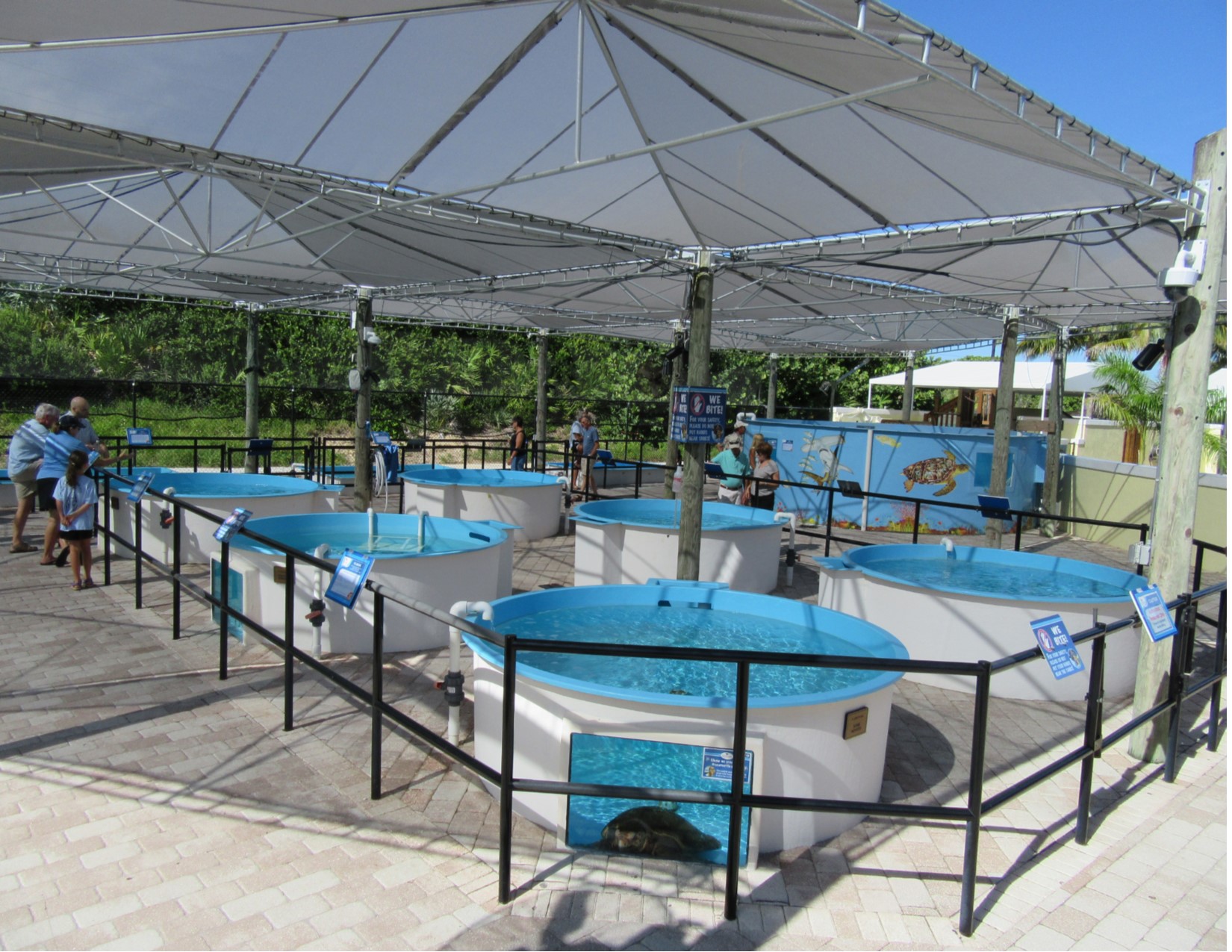 The new rehabilitation tanks are set up in a central compound, where live adult and baby sea turtles of all kinds can be seen recuperating and getting ready for release back into their natural environment. The tanks feature viewing areas at all heights so visitors both big and little can see and enjoy the information presented by their attentive staff and volunteers. You can even follow the recovery process for specific turtles online and stay up to date with their progress and release. You can also enjoy a variety of public programming offered seasonally and throughout the year.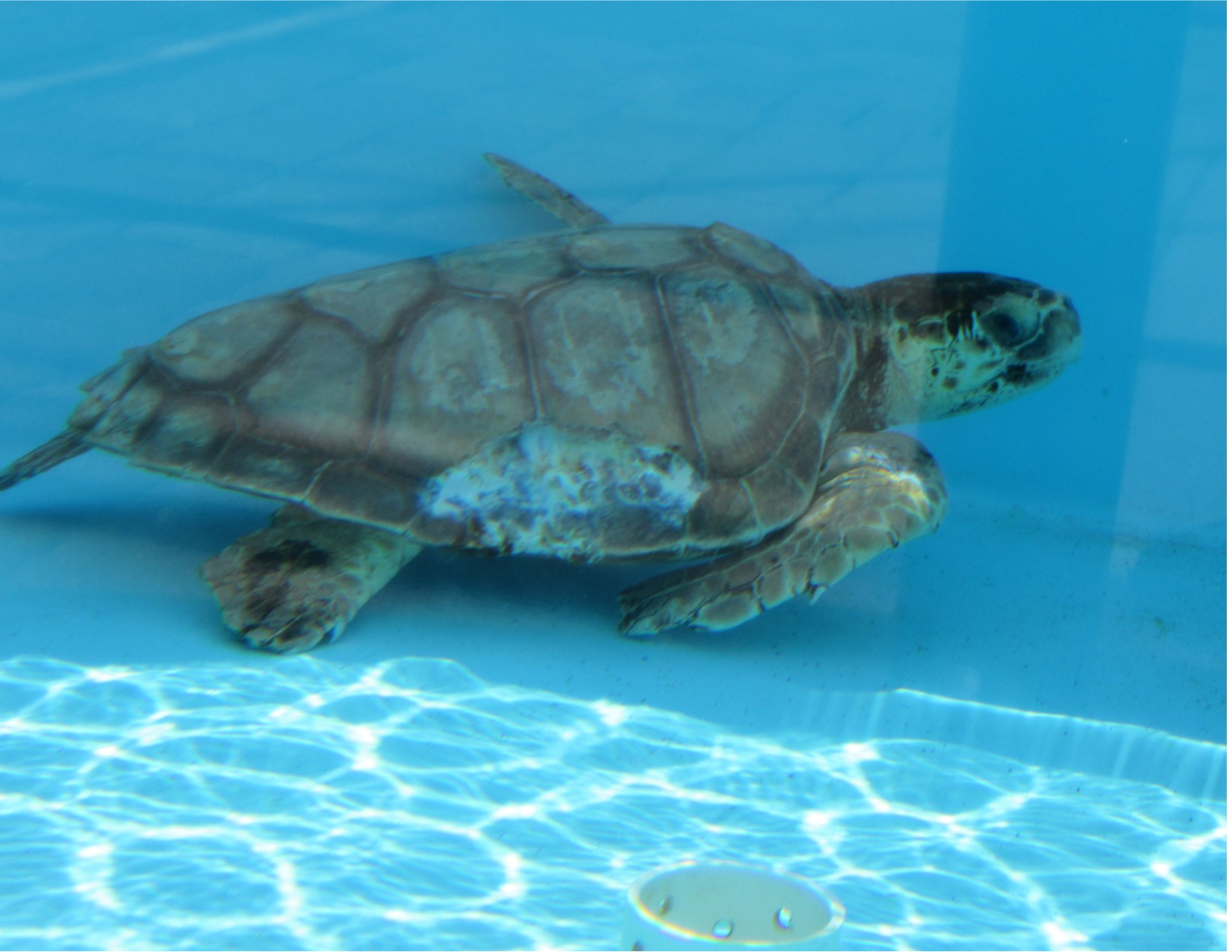 So far in the 2016 season approximately 15,000 loggerheads and more than 500 Green Turtles have been counted which is a record for the loggerheads. The area surveyed is a 9.5-mile stretch of beach from MacArthur Park to the northern Palm Beach County line. Turtles nest in Palm Beach County between March 1 and October 31. The best viewing season is from late June until early August. Turtles come ashore to nest in after dark. If you go to the beach to view turtles be sure to stay a good distance away, never touch or molest them in any way and don't use any lights as this could disturb nesting mothers or confuse hatchlings that are trying to make their way to sea. A turtle will typically roam the open ocean for 35 years before mating and returning to its place of birth to lay its eggs. A female will typically lay between 60 to 90 eggs in a nest. The sex of a turtle is determined by the temperature in the nest so if a nest is warmer, it will usually produce mostly females; cooler temperatures will produce a majority of males. A deeper nest will be cooler. One in a thousand hatchlings will grow to full maturity.
A full grown loggerhead or green sea turtle can weigh up to 400 lbs. and be 3-4 feet long. They can live for up to 100 years. Turtles feed on a variety of food sources, with greens being primarily herbivores and loggerheads being omnivorous. Both typically feed and live in waters up to 300 feet. On the other hand, leatherbacks, the largest sea turtle species, feed on jellyfish which drift through the oceans at depths up to 1000 meters. To roam and feed at these depths, a full grown sea turtle can hold its breath for up to five hours. In a typical year, Loggerhead Marinelife Center will treat 60-80 turtles. Some will require a simple hook removal and be released within a few days and others will require more extensive and long term care because of illness or encounters with boat propellers. A majority of the turtles treated will survive to be released across the street on the beaches of Juno. One of the largest turtles treated at Loggerhead was "Big Mama" who was a pregnant female. She weighed 350 pounds and in the summer of 2016 was successfully released. Loggerhead Marinelife Center has a full time staff of 29 and has some 300 volunteers.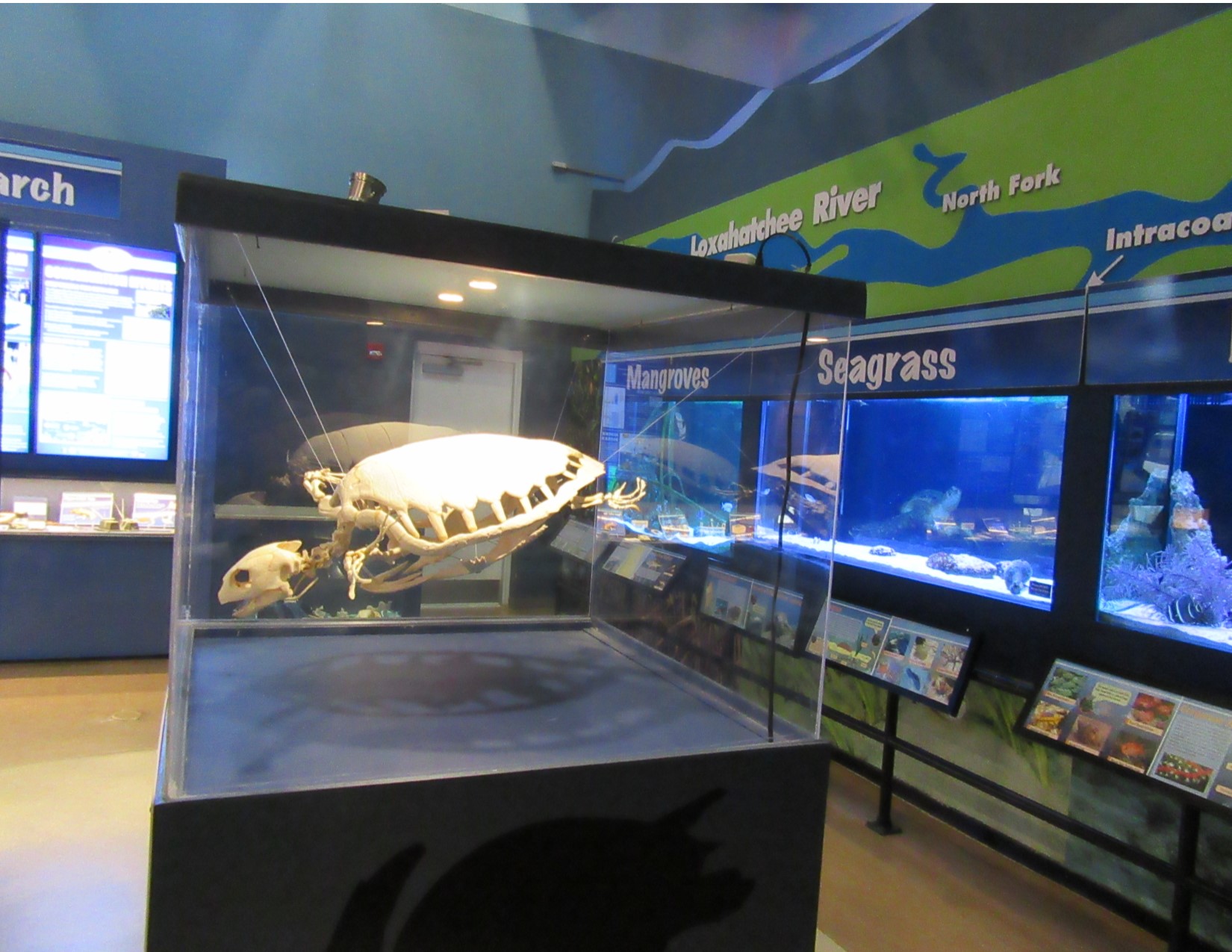 The new center is truly family friendly and makes a great location for a play date, weekend jaunt, or even a birthday party or celebratory occasion. In March, Loggerhead Marinelife Center hosts their annual TurtleFest in Loggerhead Park, featuring music, food and children's entertainment. They also host other events and fundraisers such as the Annual Lights Out Gala, TurtleWeen and the Go Blue Awards Luncheon. The center is open 7 days a week from 10AM to 5PM, and is closed for New Year's Day, Easter, Thanksgiving and Christmas. Their operating hours are sometimes affected by the weather, is it suggested that you call ahead to the campus before planning a visit. Loggerhead Marinelife Center is located in Loggerhead Park in Juno Beach, just north of Donald Ross Road on U.S. Highway 1. The park is situated between U.S. 1 and A1A (Ocean Drive) and has direct public beach access and free parking.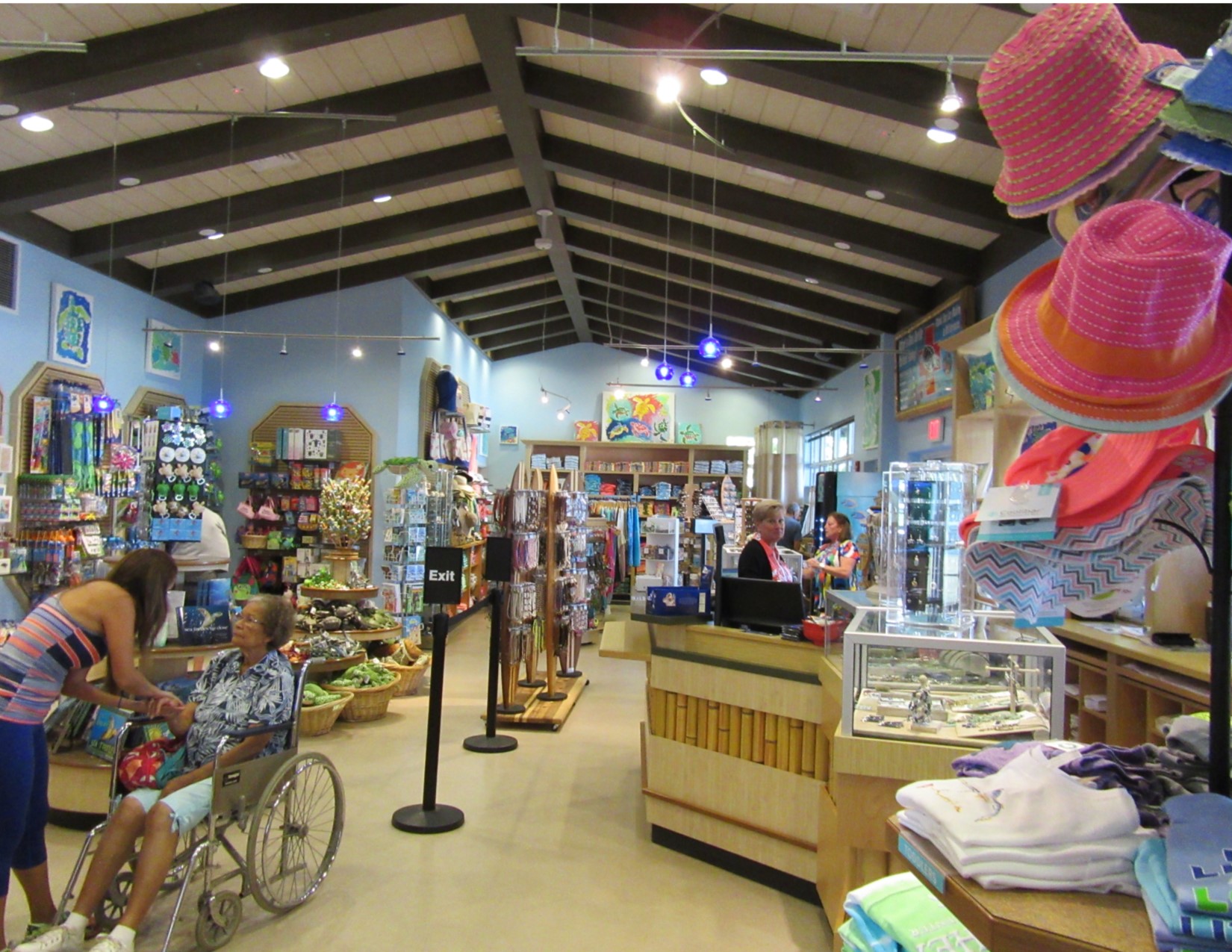 Loggerhead Marinelife Center is a 501(c)3 non-profit education and ocean conservation facility located on the Atlantic Ocean in Palm Beach County, Florida. It has spent the last 30 years excelling in its mission to promote conservation of ocean ecosystems with a special focus on threatened and endangered sea turtles, and continues to move forward and expand upon its vision to be recognized locally and internationally as the leading authority in sea turtle education, research, and rehabilitation. The center also offers seasonal and full time employment opportunities and internships.
For more information on The Loggerhead Marinelife Center visit their inclusive and comprehensive website, http://www.marinelife.org/