Mountain and Off Road Biking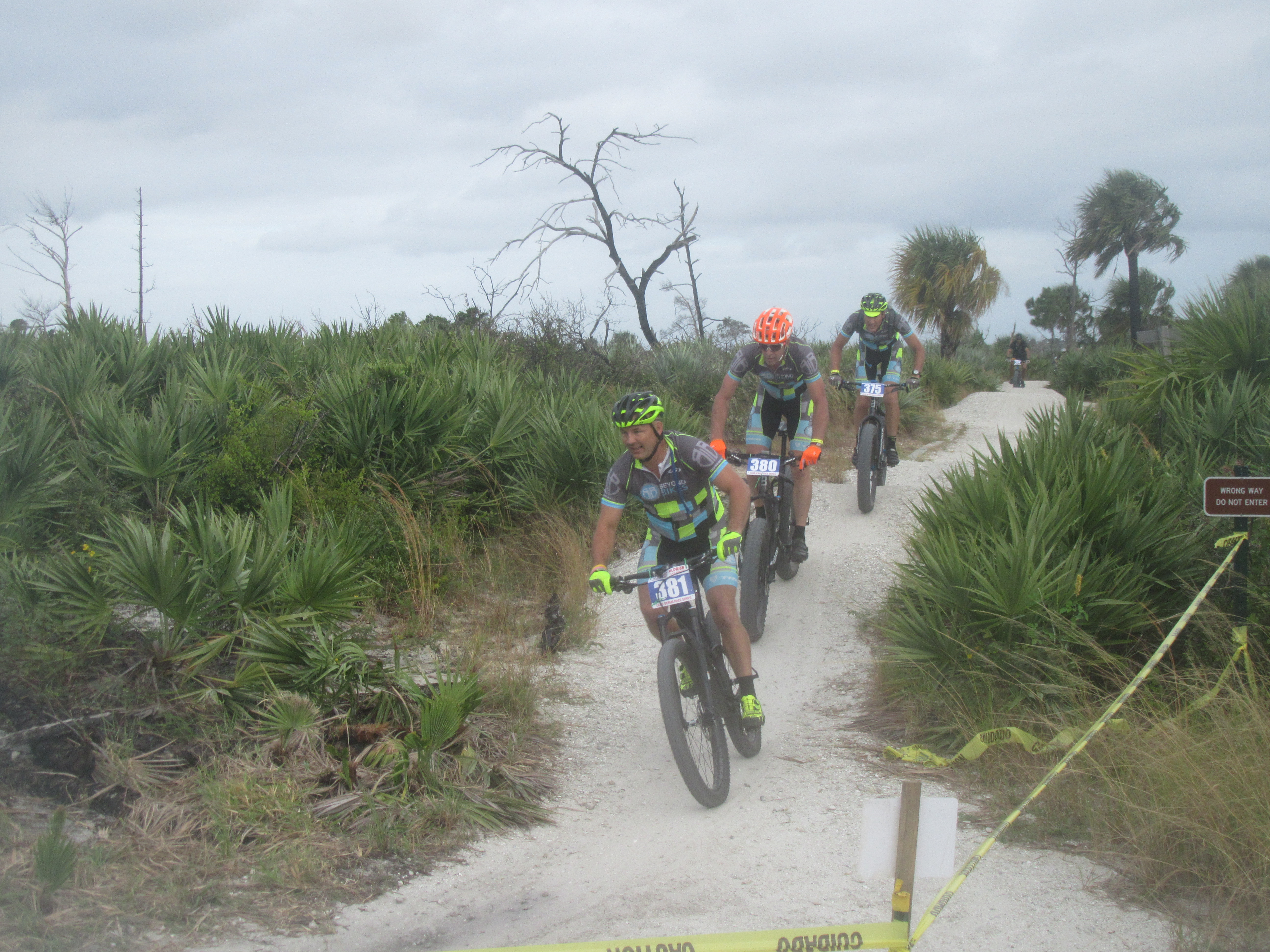 By John Curtin Home Inspector
Content Approved and Protected
Due to the flat topography of southern Florida you may not expect to find many places to enjoy mountain biking. But Jupiter and it's surrounds hostess a vibrant and growing Off Road Biking Community. There are several local mountain biking groups which can be found at our local bike shops and on Meet-Up groups. Club Scrub at www.ClubScrub.org and Airborne MTB at www.Airborne-mtb.org both maintain trails in the area.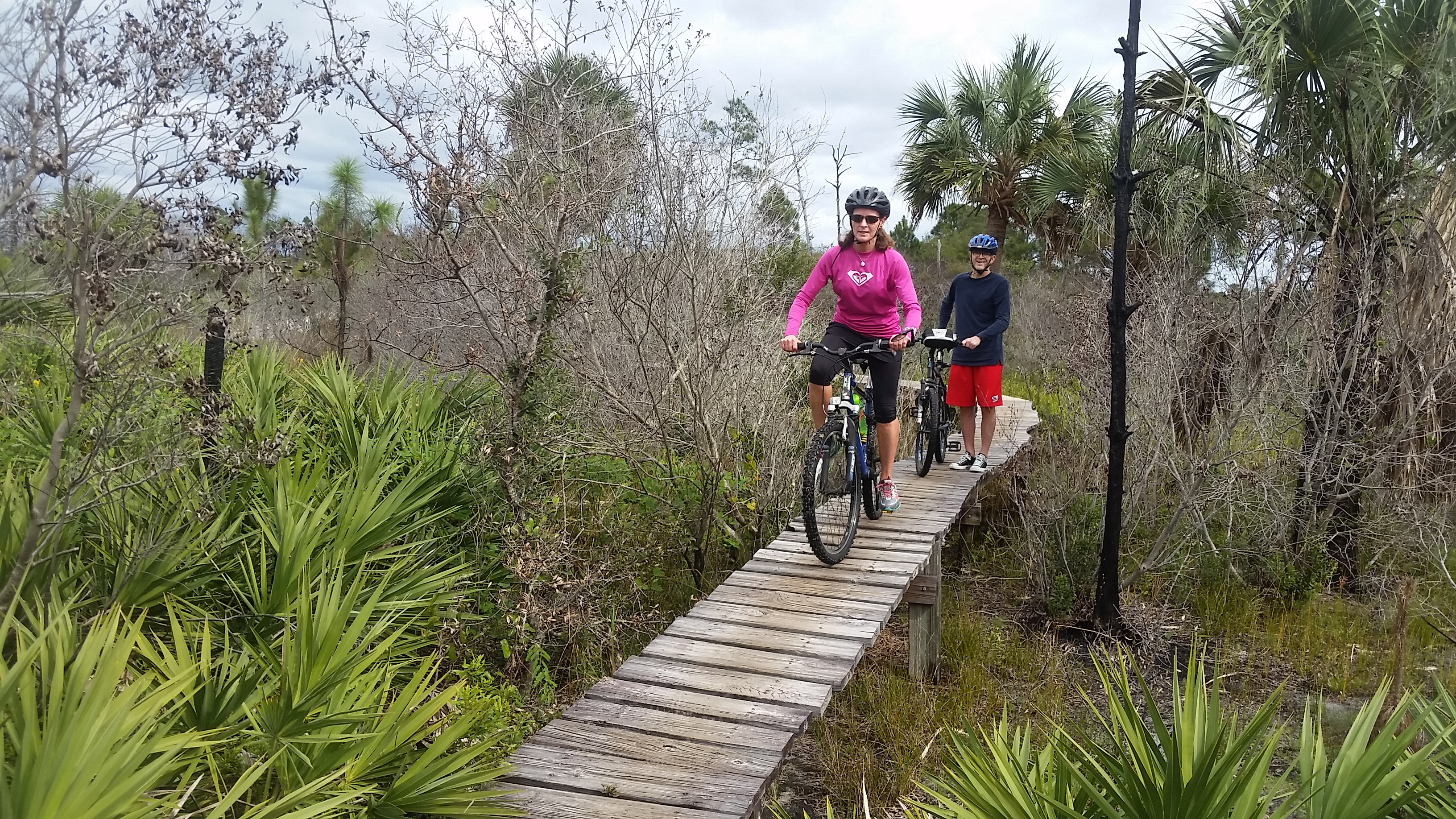 Be it a designed, challenging and maintained course, a meandering trail through the woods or a place to mingle and find social interaction Jupiter, FL offers it all.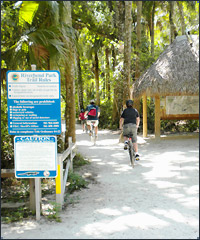 Just north in Jonathan Dickinson Park you will find the 10 plus miles of the Camp Murphy Trail System. The open environment of man-made trails with banked turns, berms and bridges offers fun and challenge for the expert and novice alike. The trails are maintained by Club Scrub which also hosts several family friendly events and races a year. In Jonathan Dickinson Park, you will also find trails that meander through its remote back areas. West of town is Riverbend Park where 7 miles of flat and packed dirt trail wind through forest and glade while you travel along and past the rivers and lakes of the park. Riverbend is perfect for a family outing or a lover's afternoon ride. Just north in Hobe Sound is Halipatokee Park with its 12 miles of trails. They're a mix of pleasant to challenging well-maintained and marked trails which wind through wooded forests dotted with lakes and meadows.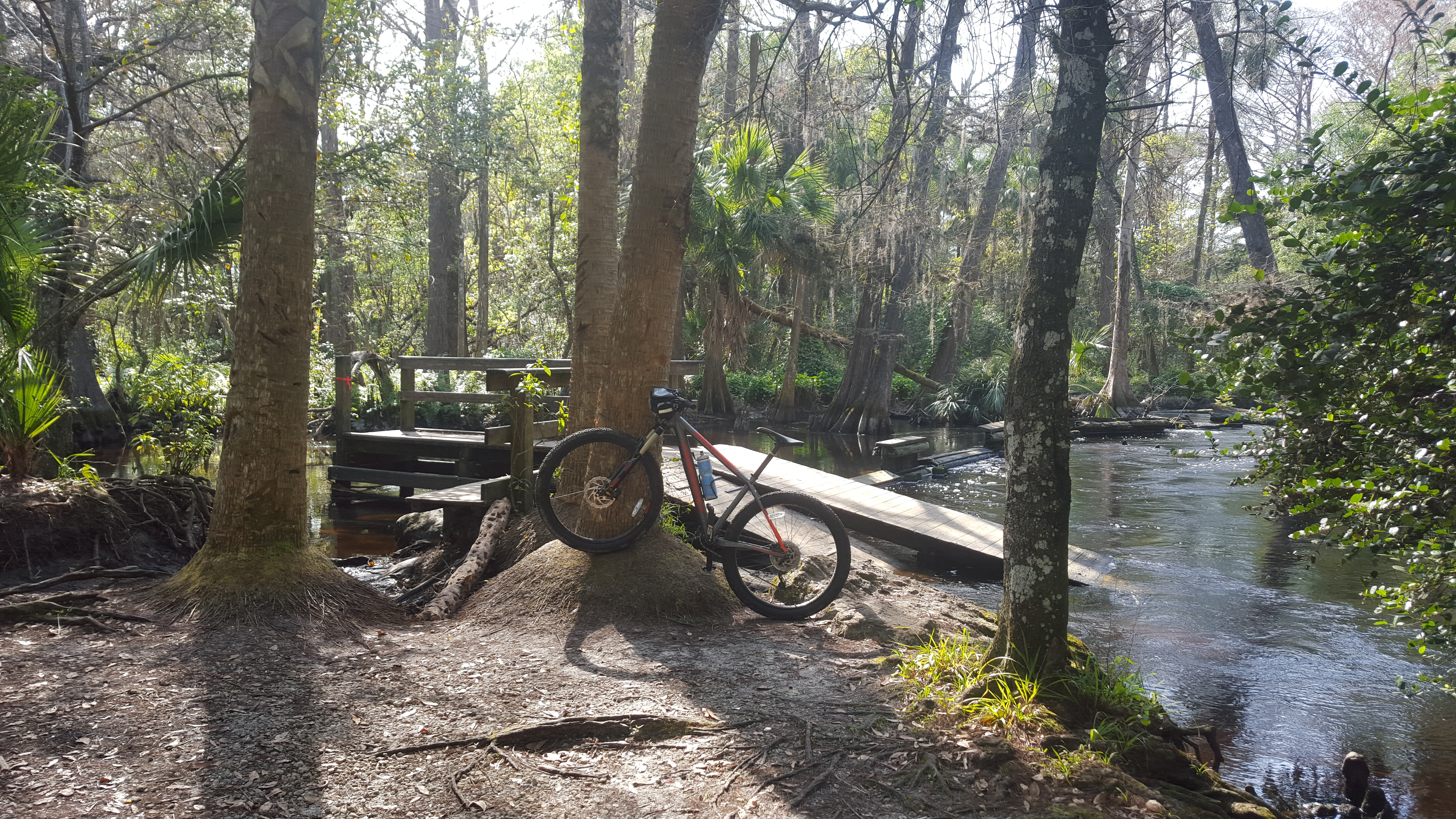 Following find the story of our primer local mountain biking group, Club Scrub, and a listing of most of the off-road trails in the area. Descriptions of most trails can be obtained by clicking on the provided link which will take you to "Singletracks" web pages. Singletracks is the leading collector and provider of Mountain Biking trail information in the nation. Some of the trail information may need updating. Membership is free and we encourage you to join and support their efforts by clicking on: http://www.singletracks.com/
Club Scrub and the Trails of Jonathan Dickinson State Park.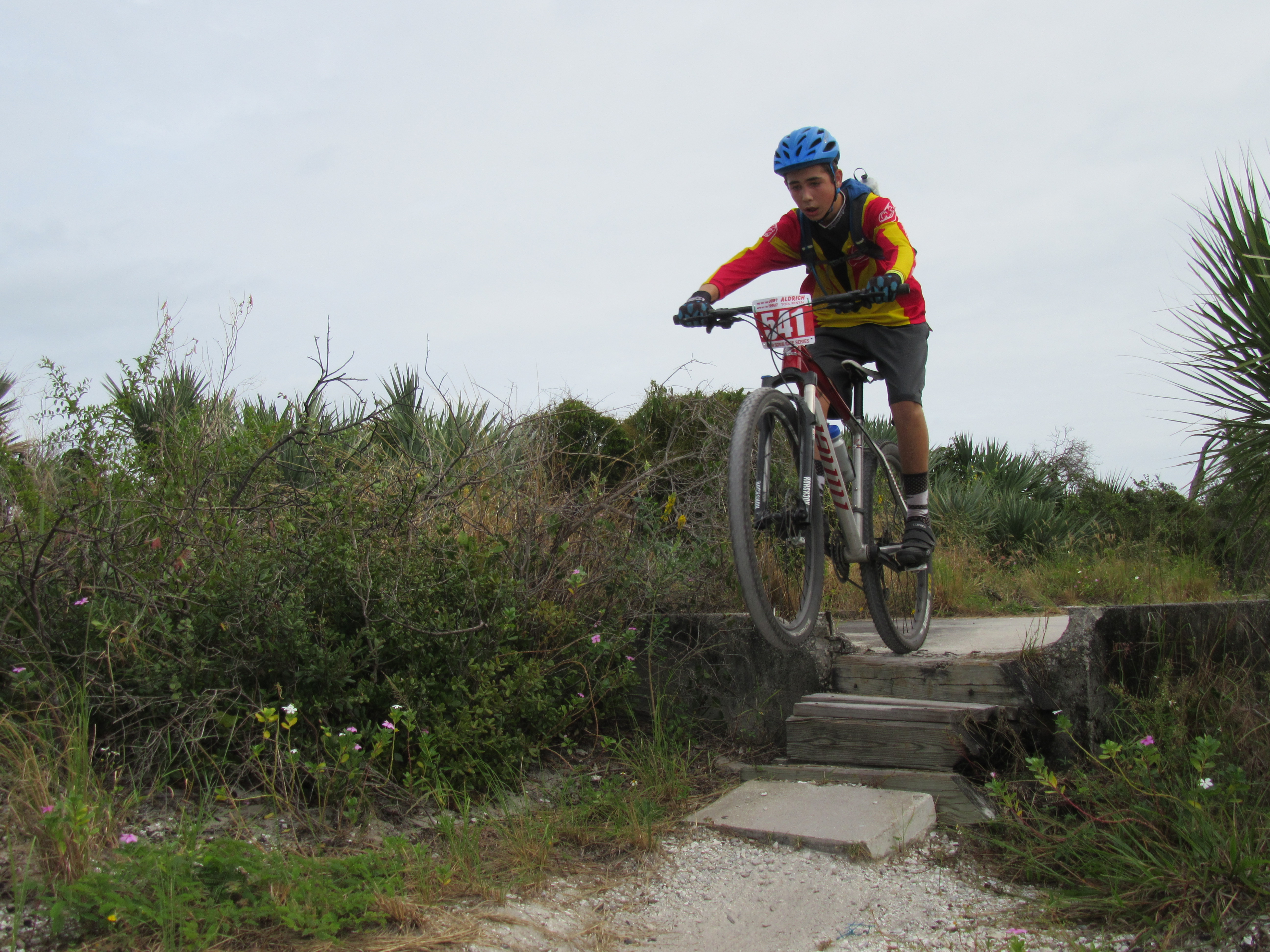 Jonathan Dickinson State Park offers many miles of winding wide trails through the park which are anchored by the Eagles View Multi-Use Trail System. This system of trails is approximately 8 miles and was originally designated for equestrian use although now walkers and off-road bikers also use it with the understanding that horses have priority.
The Club Scrub Story
The Camp Murphy Off Road Bike Trails were initially laid out shortly after the founding of the park. In May of 2000 Club Scrub was formed as a special committee operating under The Friends of Jonathan Dickinson State Park www.FriendsofJDSP.org. In 2014 Dorsey Tennant and Juliana Catalfumo met and joined forces to reinvigorate Club Scrub. With Dorsey spearheading trail development and maintenance and Juliana organizing events and membership Club Scrub has grown from approximately 40 people in September 2014 to more than 950 families in 2016.
There are over 10 miles of trail, and growing, which range from novice to expert in their degree of challenge and difficulty. Although primarily built on rolling sandy soil Dorsey and his dedicated crew of volunteers have laid tons of rock and shell and built miles of banked turns, rollers, tabletops, berms, raised wooden bridges and pine needle covered trails. Some areas are more historic and offer the purest a less groomed and sandier path and where Osprey Trail ends and Doe begins the Root Loop trails tangled Palmetto roots will challenge the fittest cyclist. The front 2 miles of trail named Tortoise and Hare are easily navigable by the novice. And most of the other trails offer bypasses around the more challenging obstacles. At the facility trail head there are also two short trails, Bob Cat and Little Cat, wind through pine woods where parents can push their youngsters along their friendly winds as they learn the joys of bicycle riding. Covered picnic areas, a "Pump Track", a bicycle maintenance station and wash and porta-potty facilities round out the front area.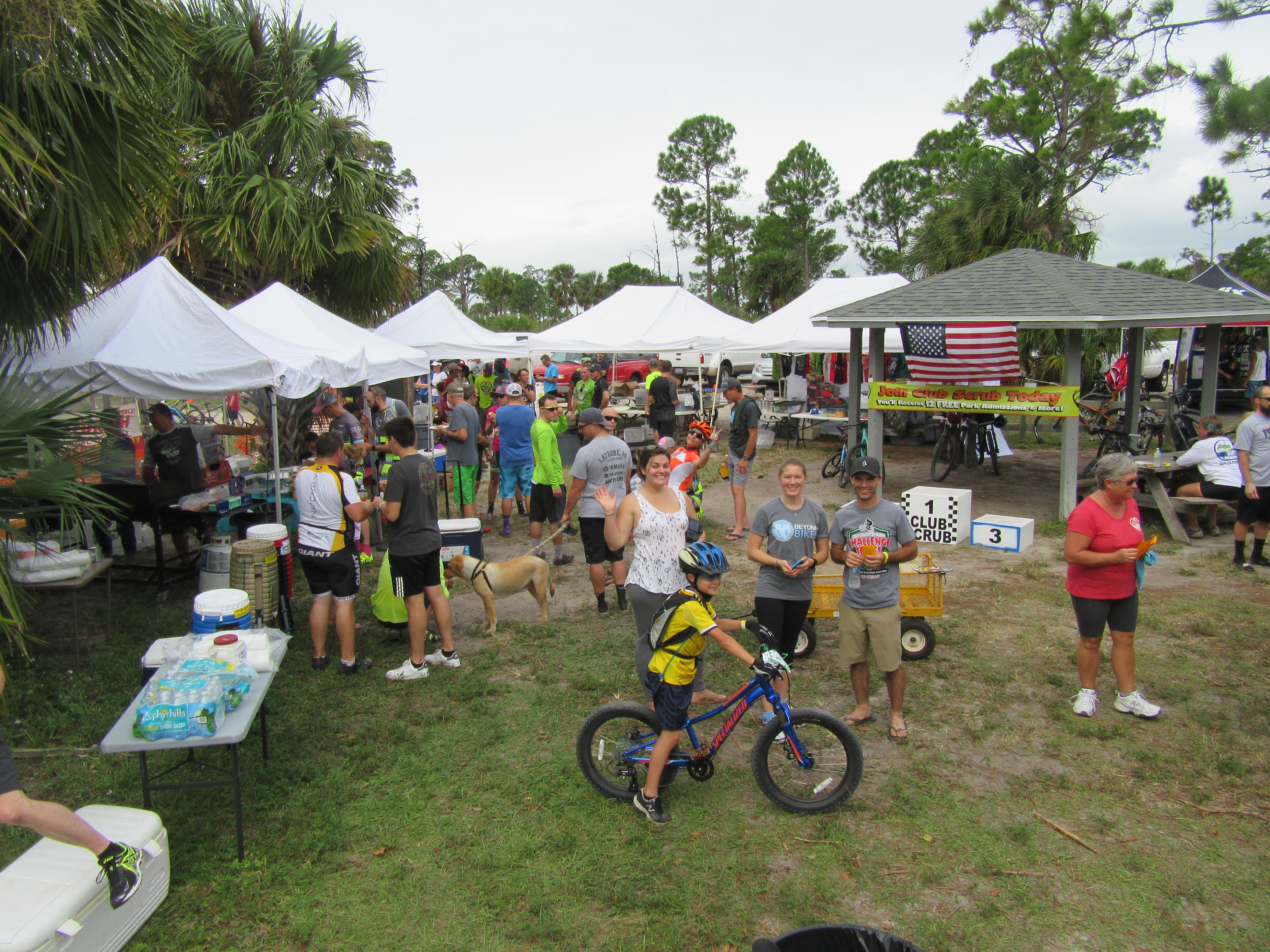 Through Juliana's efforts ClubScrub.org hosts approximately 10 events a year. They include the popular and free "Take a Kid Mountain Biking Day", moonlight bike rides, challenging races and long-distance rides through the back routes and trails of the Park. These events are all family friendly and typically include lunches, barbecues and campfires and have attracted from 50 to 300 participants. Club Scrub has also expanded to offer paddle events. Our most recent event in the late summer of 2016 attracted 300 paddlers who set off from Jonathan Dickinson State Park to gather and eat a serve lunch on a tidal "spoil island" in the middle of the Loxahatchee River just shy of A1A and The Railroad Bridge. After good food and comradery, as the tide was rising to once again submerge the island, the paddlers headed back to the Park enjoying supported refreshment stops along the way.
Members Supported
The trails of Jonathan Dickinson State Park are open from dawn to dusk and helmets are required. Trail maintenance and events are all supported by the paid membership and yeoman volunteer efforts of the members of Club Scrub. Membership in Club Scrub is $40 a year and provides 12 free accesses to the Park and discounts at local business as well as all the bike shops from Vero to Broward County. For more information, go to www.ClubScrub.org or www.FriendsofJDSP.org or visit us on Facebook.
Biking in Palm Beach County Parks
The Palm Beach County Department of Parks and Recreation offer many opportunities for mountain and general biking which can be found at the following link http://discover.pbcgov.org/parks/Amenities/Bicycling.aspx
LoxahatcheeRiver.net
At LoxahatcheeRiver.net which is sponsored by Rob Rutstein of Paradise Properties you can find links to many local biking opportunities. http://www.loxahatcheeriver.net/Jupiter-Bike-Trails.html
Mountain and off road bike trails in our area

(1)…Santos
Santos is one of the premier trail systems in the state and is a required stop for the ardent off Road Biker.
3080 SE 80th St, Ocala, FL 34480Ocala
http://www.singletracks.com/bike-trails/santos.html
(2)…Sebastian River Preserve Southern Blue Trail Sebastian, FL
1000 Buffer Preserve Dr, Fellsmere, FL 32948
http://www.singletracks.com/bike-trails/st-sebastian-river-preserve-southeast-blue-trail.html
(3)…Fort Pierce Mountain Bike Trail, Ft. Pierce
The Fort Pierce Mountain Bike Trails are maintained by Airborn MTB Club and membership is a requirement of using their trails they can be contacted at http://www.airborne-mtb.org/
(Behind) 7151 Okeechobee Rd, Fort Pierce, FL 34945
http://www.singletracks.com/bike-trails/fort-pierce-mountain-bike-trail.html
(4)…Jack Island Preserve, Ft. Pierce
Jack Island Access Rd, Fort Pierce, FL 34949
http://www.singletracks.com/bike-trails/jack-island-preserve.html
(5)…Grassy Islands Trail, Okeechobee
1901 Hillard Rd, Okeechobee, FL 34972
http://www.singletracks.com/bike-trails/grassy-island-trail.html
(6)…Halpatiokee Mountain Bike Trails, Stuart
These trails are maintained by the Airborne MTB Club
http://www.airborne-mtb.org/
8303 SW Lost River Rd, Stuart, FL 34997
http://www.singletracks.com/bike-trails/halpatiokee.html
(7)…Cypress Creek Natural Area, Jupiter
10035 W Indiantown Rd, Jupiter, FL 33478
http://www.singletracks.com/bike-trails/cypress-creek-natural-area.html
(8)…Riverbend Park Jupiter
Riverbend Park offers more than 10 miles of hard packed and graded hiking and bicycle trails that wind through its 680 acre tree canopied and meadowed park. You can see dear, turkeys, the Florida bob cat, alligators and even peacocks along with lesser mammals, birds and fish as you traverse the park. Chickee huts found throughout the park offer a place to rest or escape a shower. Many of them overlook the 5 miles of intertwined and navigable waterways. The meandering trails can get a bit confusing but large directional maps are found at most intersections to help keep the explorer on track. Riverbend also hosts The Historic Seminole Battle Field, a Seminole village, historic farmstead and a functioning lumber mill.
9060 W Indiantown Rd, Jupiter, FL 33478
http://www.singletracks.com/bike-trails/riverbend-.html.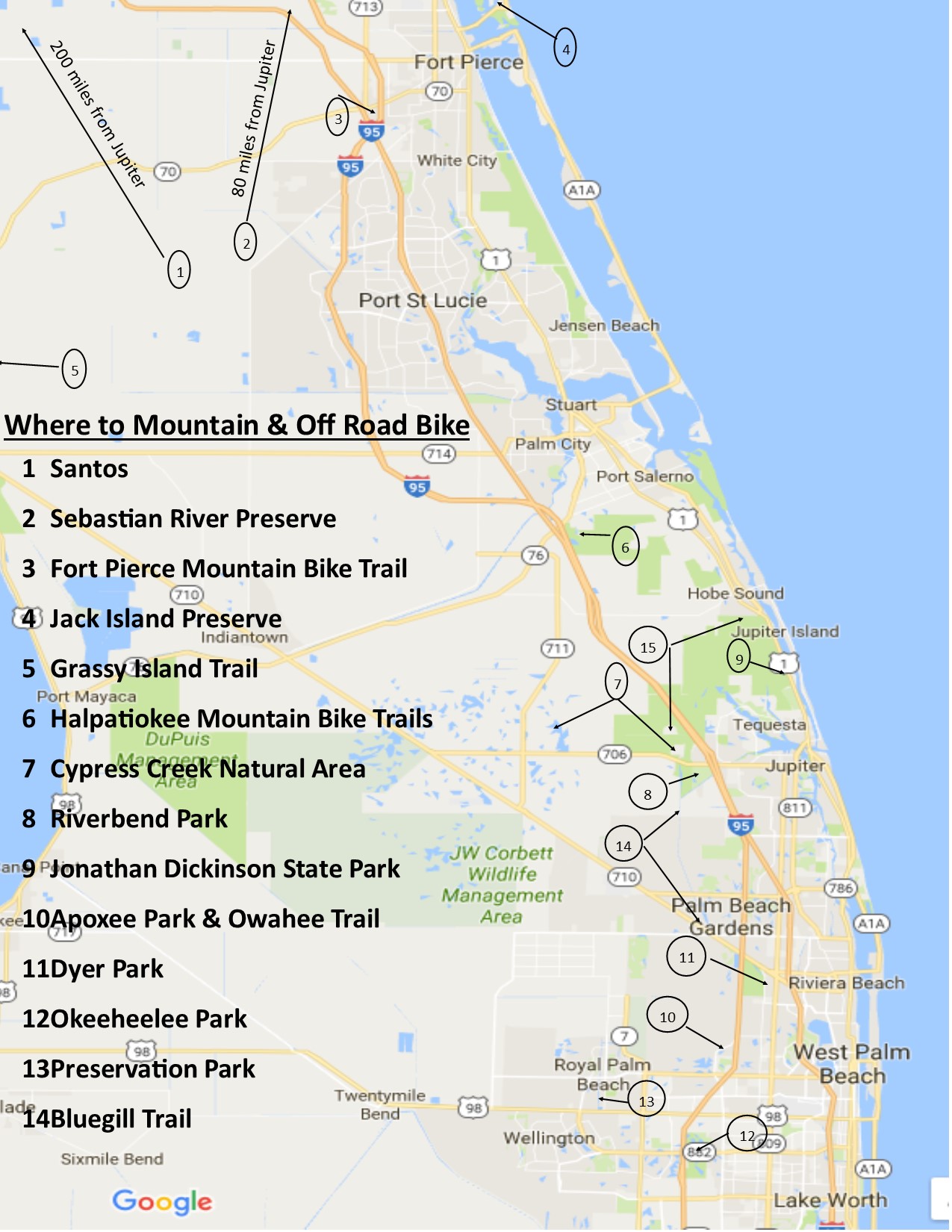 (9)…Jonathan Dickinson State Park, Jupiter
16450 SE Federal Hwy, Hobe Sound, FL 33455
http://www.singletracks.com/bike-trails/jonathon-dickenson-state-park.html
(10)…Apoxee Park & Owahee Trail West Palm Beach
Jog Rd, West Palm Beach, FL 33411
http://www.singletracks.com/bike-trails/apoxee-park.html
http://www.singletracks.com/bike-trails/owahee-trail.html
(11)…Dyer Park, West Palm Beach
7301 Haverhill Rd, West Palm Beach, FL 33412
http://www.singletracks.com/bike-trails/dyer-park.html
(12)…Okeeheelee Park / Pinehurst, West Palm Beach
7715 Forest Hill Blvd, West Palm Beach, FL 33413
http://www.singletracks.com/bike-trails/pinehurst.html
(13)…Preservation Park, Royal Palm Beach
100 Sweet Bay Ln, Royal Palm Beach, FL 33411
http://www.singletracks.com/bike-trails/preservation-park.html
(14)… The Bluegill Trail officially opened on March 9, 2011. It is the first NENA trail that links several natural areas to Riverbend Park. The trail head is located at the rear (south) entrance to Riverbend Park. There is multi-use bridge that has been installed over the C-18 canal for hikers, bikers, and equestrians. The trail is a gravel path which follows the C-18 canal for 7.5 miles from Riverbend Park in Jupiter Farms, through the Loxahatchee Slough Natural Area, past The Sand Hill Crane Park for a rest stop and on to Grassy Waters Preserve on North Lake Boulevard in West Palm Beach.
(15)…The Ocean-to-Lake Multi Use Trails traverses Jonathan Dickinson State Park from Riverbend Park to US 1 south of Hobe Sound where it passes over the railroad tracks. This trail encompasses many different paths so a map and local knowledge is suggested. GPS by your phone may not be available in the more remote areas. Be advised if you start from the south in Riverbend and travel from the path which goes under Indiantown Road you must ford the Loxahatchee river which could be up to 3' deep and 30' wide in the best of conditions. The north side trail leaving from the parking area is more forgiving. The trail paroles the Ocean to Lake hiking trail which is not open to biking so be careful to stay on the correct paths.
Be safe and enjoy your ride!!!