In I998 I decided to move horizontally in my profession and left the construction field to become a full-time Home Inspector.
I knew that I had a well-rounded background in the home construction related fields but I would also need special services to support my new endeavor. I was entering an industry where I would primarily be providing information. At the time inspection reports were delivered across town or around the world by FEDEX for receipt in days or weeks. But the world was changing and today reports are delivered to the far-flung corners of the world on the same day. In a time before most folks had email addresses I delivered reports electronicly by providing a code so my customers could download their reports from my web site.
In the 1860's the fastest way to get a message from one place to another was the Pony Express. The Express had riders and horses but they needed support also. So, they contracted with blacksmiths, stables and veterinarian's to provide the services they needed. Likewise, I needed support to get my message out and early on I hitched my wagon to...
Barry Rawdon of Silicon Coast and Yogesh Shah of Concept Computers.
Silicon Coast
I met Barry when he was working as a graphics design technician for a local printing concern I used. Shortly after he opened Silicone Coast and I had him design my first website in 1999. This year we collaborated on my newly redesigned and interactive sight. For 17 years Barry and his staff have provided me with all the Web and Mobile development, Advertising Design and Internet Marketing services I need.
Concept Computers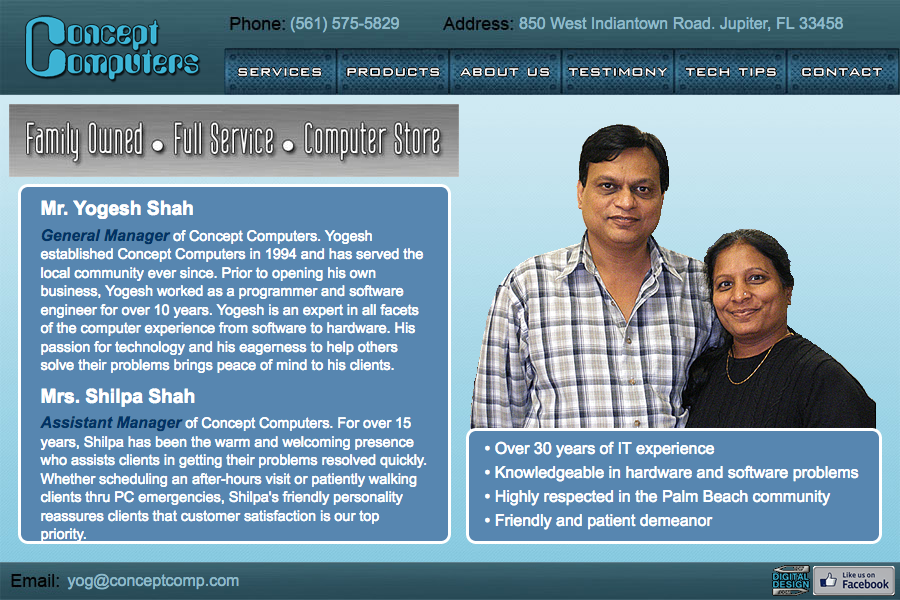 I also needed reliable computer support so one day when driving up Indiantown Road in Jupiter I pulled into Concept Computer. Since then Yogesh has provided all my computer equipment, routine maintenance, support, trouble shooting and emergency repair. For 17 years Yogesh has been there for me and I know he will be there tomorrow. More importantly his preventative virus, spyware and malware protection helps to keep problems from arising. This keeps my profitability up and my blood pressure down.

I whole heartedly recommend both Yogesh and Barry for your business and personal needs. Now, if only I could find a good Farrier.
- John Curtin